July 1, 2019
/
/
Comments Off

on The goats are baaaack!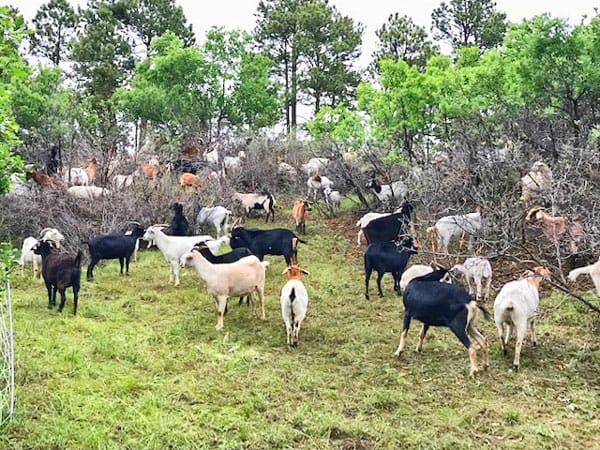 Information provided by The City of Castle Pines; Photos by Nancy Koontz and courtesy of the CPNMD
Colorado is drought-free for the first time in 20 years, but that doesn't change the need for fire mitigation efforts in the naturally wooded neighborhoods of Castle Pines. In fact, the wet spring weather has provided the perfect growing conditions for fire-prone vegetation.
Homes in the Castle Pines area, including The City of Castle Pines and The Village at Castle Pines, are located near natural areas, making them more susceptible to fire.
In June, hundreds of goats were brought in to eat through oak groves to reduce the volatile fuels that threaten homes and the natural areas that surround them.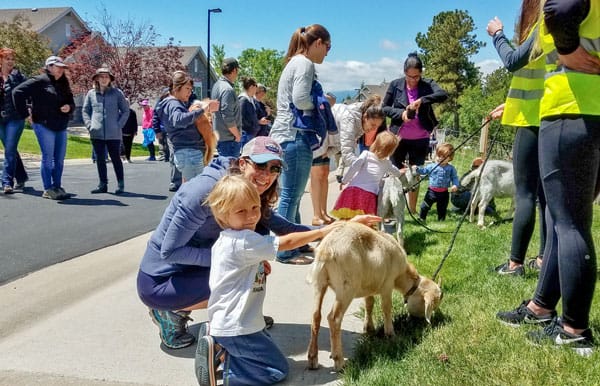 Residents in The City of Castle Pines gathered to see and pet the goats brought in for fire mitigation.
The goal of using goats in fire mitigation is to decrease tall and sprawling vegetation to prevent fire from spreading quickly and from reaching tall trees where it is harder to put out.
Why Goats? They fertilize, till the soil and have special enzymes in their stomachs that destroy weed seeds so they are not passed in their poop. Additionally, after goats eat all the leaves, plants spend their energy growing new leaves instead of strengthening their roots. Without leaves, plants are unable to photosynthesize. After several goat-munches, the plants weaken and diminish.