The Bibliophiliac's Corner: A Wrench in the Works
May 1, 2019
/
/
Comments Off

on The Bibliophiliac's Corner: A Wrench in the Works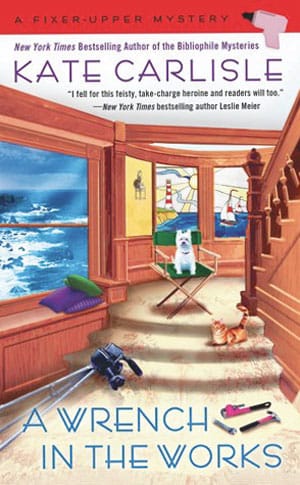 By Susan Helton
Filling in for Amanda Merriman, Connection writer Susan Helton is also a lifelong, avid reader. This month, she shares a delightful cozy mystery novel.
Shannon Hammer specializes in renovating and repairing Victorian homes in the small town of Lighthouse Cove. In A Wrench in the Works, by Kate Carlisle, Shannon's younger sister Chloe returns home after making it big co-hosting a popular home makeover show. The show is coming to Lighthouse Cove to film new episodes and Shannon gets to guest star!
But Shannon learns that all is not well behind the scenes with the crew of the show. Then the sisters find the show's executive producer dead in the house they had planned to restore. When it looks like Chloe could be next, Shannon jumps in to try to figure out who the killer is. Could this be connected to the secret of why Chloe left home abruptly ten years earlier?
While this book is the sixth in Carlisle's fixer-upper mystery series, it reads well as a standalone and is an entertaining introduction to the series. Carlisle gives enough background on the characters and town to keep readers from feeling lost without revealing too much about events in previous books. I enjoyed the convoluted mystery, and the variety of suspects kept me guessing right up until the culprit was revealed. From the interesting details that Carlisle included, I even learned a bit about the challenges of renovating an old house and of producing a television show. Often amusing, the vivid characters interacted realistically, although Shannon made a questionable decision or two. Still, A Wrench in the Works is a fun, light read that's terrific for a few hours' escape.
Have you read a great book recently? Share it with us at editor@castlepinesconnection.com.