The new identity of Castle Pines
June 1, 2018
/
/
Comments Off

on The new identity of Castle Pines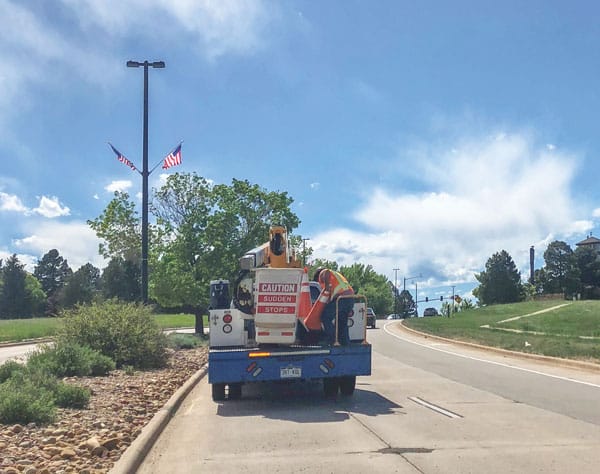 Castle Pines Parkway in the City of Castle Pines was adorned with American flags, thanks to a partnership between the city and a patriotic resident.


Article and photo by Daniel Williams; photo by Kathy Fallert
When Michael Penny became Castle Pines city manager earlier this year, he wanted to understand the identity of the community. Whenever he met residents, he asked them a simple question – where do you live?
Most often, people responded by telling him about their neighborhood. "I'm from HOA1," they would say. "I'm from HOA2."
Speaking at a Chamber of Commerce luncheon recently, Penny said that a strong identification with friendly neighborhoods surrounded by open space and connection to excellent schools is what attracted many Castle Pines residents to the community in the first place. While it's essential to embrace "our unique neighborhood character," he said it is also important to forge an identity for the overall community.
Because Castle Pines evolved from individual HOAs and subdivisions, Penny said, the town center attracted retail staples – grocery stores, gas stations, hair salons – the kind of places that offer goods and services people need, but don't create a sense of community or establish a unique identity.
With new city leadership and new residential communities in the pipeline at The Canyons (see related story page 3), Castle Pines Valley, and Castle Pines Town Center, Penny said this is the perfect time to create a unique vision.
"We need to look beyond wanting a recreation center or filling the vacancy at the old Safeway store and move to a place of establishing an identity for the city, said Penny. "Once we have that, the businesses and amenities we want to attract will come."
In studying other cities, he said, great cities rise from a developed environment that becomes a gathering place. "I think of Pearl Street [in Downtown Boulder] or in the mountain towns like Frisco. When you go to those communities, there is a 'there' there. You've got high-end retail and gardens and trees and people outside eating on patios – a true gathering place – and we don't have that yet in Castle Pines."
To bring that identity into focus, the city is in negotiations with a national firm that specializes in community engagement. Penny said the focus will be to engage in a community discussion on what residents want the Castle Pines town center to look like.
"The plan is to build a strong partnership with the community," he said. "And we'll do that through a variety of ways, including town hall meetings and an online tool that will be called 'Engage Castle Pines'."
According to Penny, the site will be "a great tool to provide information to the community and to foster conversation."
Penny has another plan to create a sense of identity in Castle Pines … signage. The city is working with the Colorado Department of Transportation (CDOT) on creating signs that will be going up to the north of Castle Pines Parkway and south of Happy Canyon Road. The signs will read "City of Castle Pines Next 2 Exits." Penny said, "We've never had signage before," but now people will begin to take notice and know that we're here."
Additional items in the works include the potential renaming of Hess Road on the east side of I-25 to Castle Pines Parkway, making a fluid transition of the city from one side of the interstate to the other. It could resume the name Hess Road on the eastern boundary of the city as the road enters the Town of Parker.
Penny and city staff have also worked with 10-year resident Gary Leiker, who donated 36 American flags to be displayed along Castle Pines Parkway during patriotic holidays.
"I respect all veterans, police officers and first responders and I felt like this was a great way to honor them and their sacrifices," said Leiker.
The city will maintain the flags and proudly displayed them during the recent Memorial Day holiday weekend. Watch for them to fly on other holidays like Flag Day, Independence Day and Veterans Day, too!