The Outlets at Castle Rock submit LED sign application
August 1, 2010
/
/
Comments Off

on The Outlets at Castle Rock submit LED sign application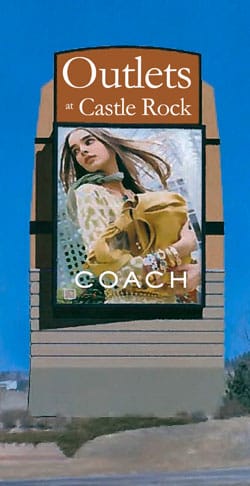 The Outlets' proposed new LED sign will be 70 feet tall compared to its existing 42 feet tall sign. Graphics by Studio Progetti.
Article by Elizabeth Wood West with graphics provided by Allison Towe, General Manager of The Outlets at Castle Rock
The Outlets at Castle Rock (Outlets) formally submitted an application to the Town of Castle Rock in June requesting changes in its existing signage.
The new signage proposal includes replacing its existing 42' tall main sign with a new 70' tall LED sign, relocating the existing main sign from the I-25 frontage to Factory Shops Boulevard on the west side of their site, and adding a fourth tenant identification sign to match three existing 25' tall tenant signs along the I-25 frontage.
The Outlets is requesting that the LED sign's hours of operation run from 5 a.m. to midnight, with its maximum illumination (5000 nits) during daylight hours and minimum illumination (500 nits) one half hour before sunset and one half hour after sunrise. ("Nits" translates into "candela per square meter," an international metric measurement for luminous intensity and generally refers to how bright a surface will appear to the human eye.)
According to Town Project Manager Jason Reynolds, "The application is a minor amendment to the Outlets' Final PD [planned development] Site Plan and it does require public hearings at Planning Commission and Town Council."
LED Signage Ordinance
The Town's recently updated LED sign ordinance allows static messages only – no blinking, flashing, animation, or scrolling. Images must remain for 10 seconds at a time and face transitions will not exceed 0.3 seconds. All signage within the Town is reviewed by Town staff on a case-by-case basis, whether new or replacement, and a permit is required if there is a face change. Standard signs are allowed 50 square feet per face or 100 square feet per face for multiple-business listings. Reynolds said that the Town's commercial areas are PDs and have created their own signage rules and standards; downtown Castle Rock also has its own rules and standards. Nevertheless, they are still subject to Town review.
Referral comments and concerns
The application was forwarded to ten referral agencies, including five homeowners' associations, for review and comment. Douglas County's Community Planning and Sustainable Development staff commented that the LED sign exceeds the maximum square footage and height allowed within the Town's signage ordinance and exceeds allowable building heights within Town limits. They also asked if there was a limit to the number of freestanding signs allowed at the Outlets and how the Town would insure that the nits levels would be met.
The Happy Canyon Homeowners' Association commented that because several residents will have the new LED sign in their view shed, they are concerned about the brightness and size of the proposed sign. Subsequently, they requested that the sign's size be reduced and its hours of operations are restricted to The Outlets' hours of business from 10 a.m. to 8 p.m.
To date, the town has not received any other LED signage applications. As of press time, public hearings had not been scheduled.
For more information, please contact town project manager Jason Reynolds at 720-733-3537 or The Outlets General Manager Allison Towe at 303-688-2800.
The Outlets' proposed new LED sign will be 70 feet tall compared to its existing 42 feet tall sign. Graphics by Studio Progetti.