View Douglas County history in a whole new way; Google Earth
August 1, 2010
/
/
Comments Off

on View Douglas County history in a whole new way; Google Earth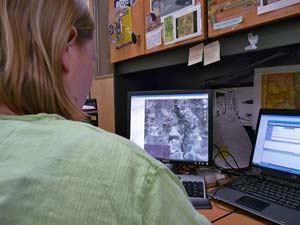 Modern technology brings the history of Douglas County to life withGoogle Earch imaging.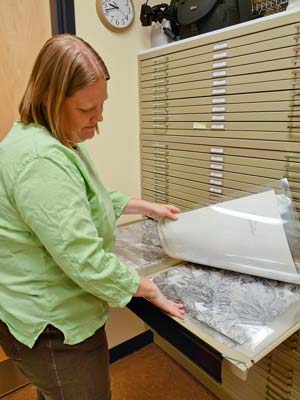 Douglas County History Research Center archivist Shaun Boyd spearheaded an effort to transfer large format aerial photographs of Douglas County to a digital format now available on Google Earth.
Information provided by Nanci Marr, Community Relations Specialist, DC Libraries
For Castle Pines and area residents who have ever wondered what their neighborhood looked like a half century or more ago, now the answer is virtually at their fingertips.
Historical aerial photographs of Douglas County are now available to the public on Google Earth, courtesy of archivists at the Douglas County History Research Center (DCHRC), a service of Douglas County Libraries.
The DCHRC has long owned images taken from airplanes in 1937 by the Agricultural Adjustment Administration (a New Deal Program), and in 1955 by the Soil Conservation Service. The images came to the DCHRC via the Natural Resources Conservation Service, part of the U.S. Department of Agriculture.
"The aerials are our most used resource," said DCHRC archivist Shaun Boyd. "I had wanted for some time to make the images more accessible, but didn't have a way to do that easily."
Then Boyd discovered a feature on Google Earth that allows a user to select a specific historical time period using a slider bar. Google Earth is a free virtual globe program that superimposes satellite imagery, aerial photography and GIS (geographic information system) technology over a three-dimensional globe.
"We took the images we had to the Douglas County planning department to have them scanned," said Boyd. "Then we worked with the U.S. Geographical Survey, the Douglas County GIS Department and Google to refine the images and make them available." The whole process, done at no cost to the library, took about five years to complete.
The images constitute a unique resource available to people with an interest in Douglas County, including those doing environmental assessments for new enterprises. While images from across the state are available at state universities and perhaps other counties, few have been catalogued, and even fewer are available through something as ubiquitous as Google.
The Douglas County originals are still on file in the DCHRC. "There are names of landowners written on the 1937 aerials because they were housed in the Douglas County Assessor's office for a number of years," said Boyd. "We have aerial photos from 1937, 1955, 1962, 1967, 1975, 1988 and 1999."
People interested in seeing the photos should visit Google Earth at http://earth.google.com/. Double-click on the globe at the approximate location of Douglas County, Colorado. Each subsequent double-click will zoom in a little further. Click on the clock icon in the upper left-center of the screen to access the historical slider bar.
For more information, call 303-791-7323 or visit dcl.org.