There's something special about Springsteen
April 1, 2009
/
/
Comments Off

on There's something special about Springsteen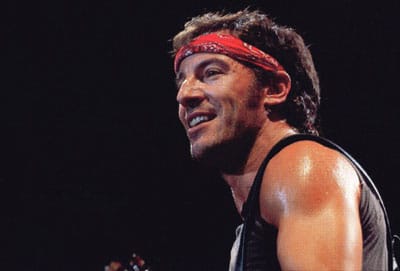 Bruce Springsteen
by Paige Newman, Rock Canyon High School Intern Writer
The Boss runs my family. When the Boss is speaking, we are all ears. When the Boss plays guitar, we listen in silence. When the Boss is singing, God forbid a distraction interrupts a single note.
The Boss is Bruce Springsteen.
Some of the biggest Springsteen fans out there can say that they know every word to every song; they can say that they saw him perform at the Superbowl halftime show; they can say that they love nothing more than the Boss. What they probably cannot say is that Bruce is the leading man in their families' lives, the axis around which the family revolves. The Boss' role in my family did not just stem from a love of music, though. It stemmed from so much more than that.
My dad was your regular teenage boy. He played tons of sports, went to tons of parties, got into tons of trouble. One thing set him apart from the rest, though: when my dad was just 18 years old, his father died of cancer.
According to dad, 18 is an important year for a boy: the first year of college, the first time being truly on your own, and the time a boy needs his father the most.
To make a long story short, my dad lost the single most important person in his life. Without a father figure to turn to anymore, my dad turned to Bruce. Bruce was constantly singing his lyrics directly to my dad, or so it seemed. His songs seemed to be written as though he had been through all of the same things as my dad. On the way back to college from his father's funeral, Bruce made the 800-mile trip with my dad.
As the amount of hair on my dad's head lessened, his passion for Bruce grew. To state it briefly, Bruce got my dad through almost every hard time in his life, and was the only person who was constantly there.
My dad never lost his passion for Bruce and his music. To this day, he still goes to any and all concerts he can make it to, buys every new album, watches every TV interview, and listens to Bruce every time he gets in the car.
I do not necessarily have this same passion for Bruce as my dad, but my dad has shown me the importance of having a passion for something in your life. He has taught me that without a passion, what will get you through the hard times? Without a passion, what do you have to always turn to? Without a passion, what do you have to live for?
I have yet to find my one true passion in life. There are things I love; things I would never give up, but I have yet to find my Bruce. I do not know how many of us can say that we have. What I do know is that I will find it one day, have to find it, because from this passion will grow other opportunities, other dreams, other passions. Once I find my passion in life, I will be able to run with it; to start making something happen out of it.
After all, as the Boss would say, "you can't start a fire without a spark."
The Boss is coming to Denver – Bruce Springsteen, one of rock's most reveled icons, attained superstardom with hits "Born in the USA," "Dancing in the Dark," "Streets of Philadelphia," and dozens of others! Don't miss your chance to see The Boss in person – Friday, April 10 at 7:30 p.m., at the Denver Pepsi Center.