Three ways to get connected
April 1, 2009
/
/
Comments Off

on Three ways to get connected
by Terri Wiebold
There are now more ways to get information about what's happening in your community.
A New Newspaper –
A new, independently owned and operated community newspaper is now serving the greater Castle Pines community. The Castle Pines Connection is a bi-monthly newspaper focusing on all things local; not just Douglas County-local, but specific to the Castle Pines community.
The paper offers a variety of news and information, including stories about local development, businesses, schools, churches and community activities. It is direct mailed to all homes and businesses in the city of Castle Pines North and areas of unincorporated Douglas County, including Castle Pines Village, Surrey Ridge, Surrey Ridge Estates, Charter Oaks, Beverly Hills, and Oak Hills.
The newspaper also provides advertising opportunities for local businesses, and provides discounts to Castle Pines Chamber of Commerce members. Anyone interested in advertising with us can contact advertising or call 303-785-6520.
Your input is important to us. To submit an opinion about something happening in the community or something covered in the paper, email editor. Feedback will be posted on the website and may be included in the newspaper.
An Informative Website –
In addition to a newspaper, The Castle Pines Connection provides a timely news-based website, www.castlepinesconnection.com. The website contains news stories, fun feature stories about local residents, spotlights on businesses, a community calendar, hundreds of photographs from community events, and resources within and around the community.
The marketplace business directory also showcases local businesses, and the classified section allows you to post listings at no charge. You can even submit a review of a vendor; just go online.
Community E-mail System-
The Castle Pines Connection also maintains an email system to send out relevant news and information about things happening in the Castle Pines community. Important safety alerts, road closure warnings, meeting information, and community events are among recent email topics.
Anyone interested in receiving community emails can sign up at www.castlepinesconnection.com. Join your neighbors in getting connected!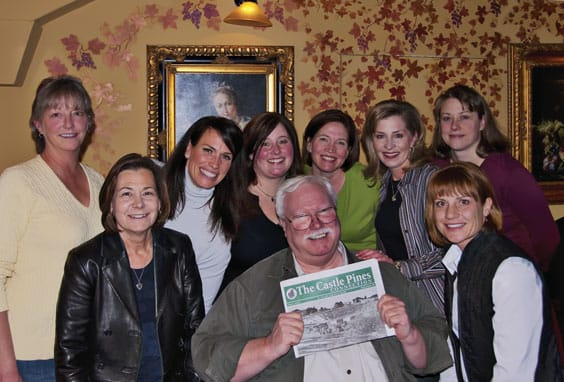 The Castle Pines Connection team gathers at local restaurant La Dolce Vita to celebrate the first issue of the bimonthly newspaper. Pictured left to right: Sharon Kollmar, Sandy Gamble, Terri Wiebold, Carin Kirkegaard, Lisa Crockett, Lane Roberts, Tracy Dudley, Anthonette Klinkerman, and Tim Gamble (center). Not pictured: Scott Larson.
Special thanks to our friends at the Castle Pines North Metro District; the Castle Pines Chamber of Commerce; South Metro Fire Rescue; Douglas County; the Castle Pines North Master Association and individual sub associations; Douglas County Sheriff's Office; the Castle Pines (Village)Homes Association; the Colorado Department of Transportation; Douglas County School District; the city of Castle Pines North, and to the Castle Pines community and local businesses who have shown their support these past few months. This publication would not be possible without your contributions.