October 1, 2006
/
/
Comments Off

on Three Sports a Charm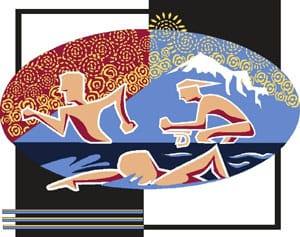 by Celine Hundt
Triathletes have the arduous challenge of excelling at three different sports (biking, swimming and running).
For Kathleen Steffe, a Castle Pines North mother of two, this challenge has become a life's passion. It was almost an accident that Steffe first discovered the triathlon at the unlikely age of 41. A work colleague sold Steffe on the idea of trying her hand at the sport. Although Steffe was no stranger to competitive sport (she had been a competitive swimmer at UC Berkeley in California), she was as surprised as anyone when she finished in the top three of her age class at her very first triathlon – the Danskin race in Aurora.
Since then, Steffe has gone on to achieve great success in several triathlons that include the Boulder 5430 series and the National Championships in Kansas City. The Denver Post recently included Steffe in their article discussing the appeal of the triathlon for competitive athletes. For most of the four years that Steffe has been involved with triathlons, she has also juggled a high-powered, full-time career working for Nextel/Sprint.
A recent foot injury has temporarily rendered Steffe unable to compete. However, the future looks rosy for this 44-year-old athlete. As she enters the 45 plus age group, she is optimistic about her chances as one of the younger competitors in her class. Her long-term goals include participating in the Boulder 5430 next summer, the World Championships in Hamburg in September, and potentially an Ironman competition sometime in the future.
It appears that this mother of a six and nine-year-old has been incredibly successful at striking a balance between work and family obligations and the rigorous demands of competitive athletics. Although she recently qualified for the World Championships in Switzerland, Steffe declined to participate believing that the toll on her family would be too great.
For inspiration, Steffe needs to look no further than her own mother and mother-in-law. At the age of 73, her mother still walks ten miles daily. As for her mother-in-law, also in her seventies – she is contemplating a vacation on a dude ranch.