Timber Trail fifth graders dance through the decades
June 1, 2014
/
/
Comments Off

on Timber Trail fifth graders dance through the decades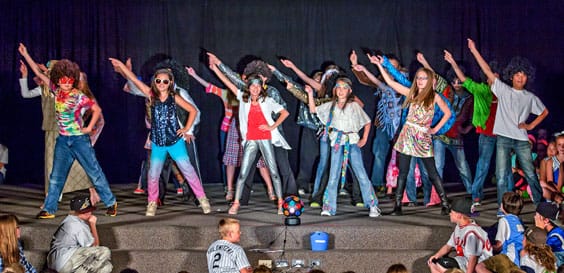 Article and photos by Lisa Crockett;
photo courtesy of Mark Wilkins Photography
History can be a dull recitation of facts, a punishing exercise in rote memorization. Or it can be the most fun a student has ever had. Some innovative teachers at Timber Trail Elementary (TTE) are working toward the latter by using a full-body approach. For the third year in a row, fifth graders at the school prepared a dance performance to be debuted as part of the school's annual variety show. Based on a popular YouTube video called "The Evolution of Dance," fifth graders learned about pop culture by learning about everything from the Mashed Potato to Gangnam Style.
Art teacher Wendy Wilson and music teacher Cindy Berndt played the long game with this project, getting kids excited about it as far back as last spring. "We start talking to them about it in fourth grade to see what their ideas are," said Wilson. "Then we spend the summer thinking about it."
Rehearsal started as soon as school did in August, with Fridays as designated "dance days." Early on, Wilson helped students explore different styles of dance and discussed how certain types of dance evolved and became popular. She also helped students identify types of dance they might be interested in learning and helped students who had training or ability in dance gain confidence to audition for solo parts. In some cases, students like Charlotte Baxter, who has been a ballet student for much of her childhood, dictated the style of dance that would be featured.
"We looked at kids who had talent and how to use that, but we wanted all the kids to illustrate meaning through performance," said Berndt. "We talked about how culture, style and history all influence each other."
In the end, the dance spanned hundreds of years, at least three continents, and lasted 12 minutes. Authentic costumes – including poodle skirts, polyester pant suits, and "Frankie Says Relax" t-shirts created a crisp delineation between each snippet. "We spent a lot of time reflecting and critiquing each others' work," said Wilson. "We'd watch video and then have the kids help us decide where we needed to improve and what might need to be cut."
Eleven-year-old Jaret Goode was a featured dancer during the 80s section of the performance, showing off his moves during Styx's "Mr. Roboto." Goode said, "I really liked being able to show the moves I learned; it was also fun to see my friends dance."
The dance is now a firmly entrenched tradition at the school and has gained momentum with each passing year. "It's great to see them coming together for one of the last times before middle school," said Wilson.