The magic of en plein air
June 1, 2014
/
/
Comments Off

on The magic of en plein air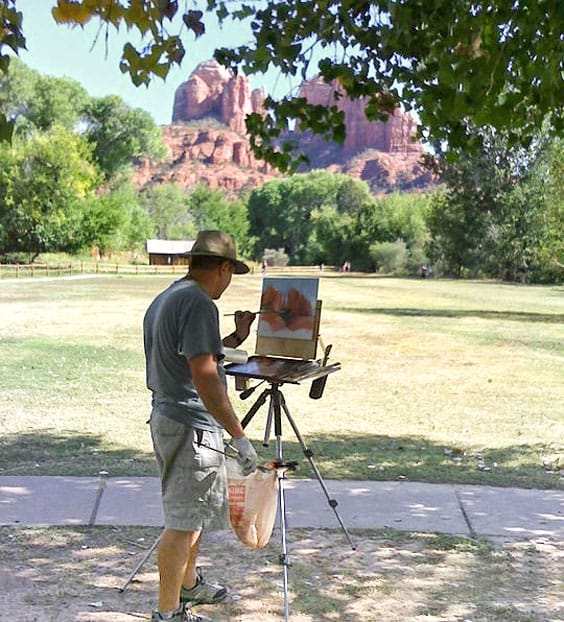 By Patte Smith; photo courtesy of Douglas Land Conservancy
Noted local and regional landscape artists who hail from Montana, Idaho, New Mexico, and Colorado will gather in June for an en plein air painting event in Douglas County to benefit Douglas Land Conservancy (DLC) land trust.
The artists will spend the week of June 23 on private open space protected by conservation easements held by the DLC, painting en plein air capturing the beauty of scenic Douglas County. The term "en plein air" is a French expression that means "in the open air."
Wednesday through Friday, June 25 through 27, the artists will bring their works-in-progress to the Art on the Edge gallery in downtown Castle Rock, the home of the Castle Rock Arts Guild. The public is invited to visit the gallery in the evenings to view the progress of the paintings and may purchase finished artwork prior to the art exhibit and sale that will be held on Saturday, June 28. Saturday the artists will gather at Dawson Butte Open Space, 1923 Tomah Road from noon to 6 p.m. to exhibit and sell their works.
Dawson Butte Open Space is a public open space that is owned by Douglas County and protected by a conservation easement held by DLC. "We believe the partnership between Plein Air painters and a land trust is ideal," said DLC Executive Director Patti Hostetler. "It has been the mission of DLC for more than 27 years to protect the beauty of open spaces in Douglas, Elbert, and Jefferson counties. Part of the proceeds from the art sale will help DLC expand its efforts to protect more of the region."
The exhibit and sale on June 28 is free to the public. During the exhibit and sale there will be food and beverages available for purchase and demonstrations by some of the artists. DLC staff and volunteers will be on hand to help visitors purchase art and enjoy the afternoon.
DLC was founded in 1987 and now holds 76 easements protecting more than 22,000 acres in Douglas, Elbert and Jefferson counties. It is headquartered in Castle Rock and is governed by a volunteer board of directors. It is a registered 501c3 non-profit and is nationally accredited by the Land Trust Accreditation Commission and is certified by the Colorado Department of Regulatory Agencies.
For more information on the event and the artists who will be in attendance, visit www.douglaslandconservancy.org.