Town approves Outlets' LED sign
February 1, 2011
/
/
Comments Off

on Town approves Outlets' LED sign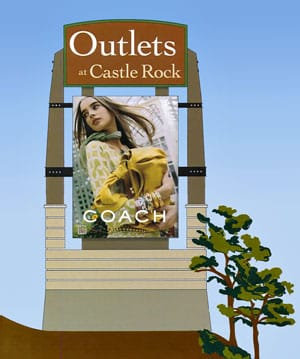 by Elizabeth Wood West
The Town of Castle Rock has approved its first LED sign. The new LED sign will be for the Outlets Mall in Castle Rock. The sign's applicant, Craig Realty Group (Outlets' owner), submitted its signage proposal to Town officials in 2010.
The proposal included replacing its existing 42' tall main sign with a new 70' tall LED sign, relocating the existing main sign from the I-25 frontage to Factory Shops Boulevard on the west side of their site, and adding a fourth tenant identification sign to match three existing 25' tall tenant signs along the I-25 frontage. The Outlets had also requested that the LED sign's hours of operation run from 5:00 a.m. to midnight.
The town's planning commission reviewed the application in September, 2010 but did not approve the LED sign as proposed, and instead asked the Outlets to reduce its size. Town Planner Jason Reynolds stated, "After the planning commission [hearing], the applicant revised the sign so that it [would be] slightly smaller in overall square footage and about 12 feet shorter from base to top."
Reynolds explained, "As viewed from the interstate, the revised sign will be about two feet shorter than the original submittal. They plan to add fill to the area around the existing sign, which will raise the ground level so the sign structure does not have to be as tall," he said. The LED sign will stand 58' tall above grade and 37'- 8" wide. The Outlets committed to a 12-hour window of operation for the sign, and set 8 a.m. to 8 p.m. for daily operation hours.
The Outlets' General Manager Allison Towe says she is pleased with the town's decision. "We appreciate all the time and effort given by so many to help us in this endeavor. The LED sign is a new way to expand the reach of Outlets of Castle Rock far and wide. Where LED signs have been installed in our other malls, we have seen substantial increases in both brand awareness and in sales," said Towe. "It also gives us the opportunity to become a greater community partner. The sign enables us to communicate local community events and activities to the public. It truly is a multi-faceted marketing tool," Towe added.
The Outlets have already begun the pre-construction process and expect this phase to continue for a few months. "We are targeting to be under construction by spring and, with some good weather, we anticipate that the sign will be fully operational by the summer," she said.
For more information, contact Town Project Manager Jason Reynolds at 720-733-3537 or Towe at 303-688-2800.