Town home project receives final approval
November 1, 2020
/
/
Comments Off

on Town home project receives final approval
By Chris Michlewicz; renderings courtesy of Norris Design
City of Castle Pines residents will soon see more construction activity south of the city's business district as a new town home development takes shape.
The Castle Pines Planning Commission unanimously approved a site improvement plan in late September for 187 town homes between Lagae Road and I-25, about a quarter mile south of Castle Pines Parkway.
The town homes will be built on 18.75 acres of land known as Planning Area 7 (PA7) in the Castle Valley development, formerly Lagae Ranch. The neighborhood, which is being developed by Century Communities, will be known as Skyline Ridge at Castle Pines. It is unclear when construction will begin or how long the project will take to build. Century Communities declined to comment until after the sale of the land is complete.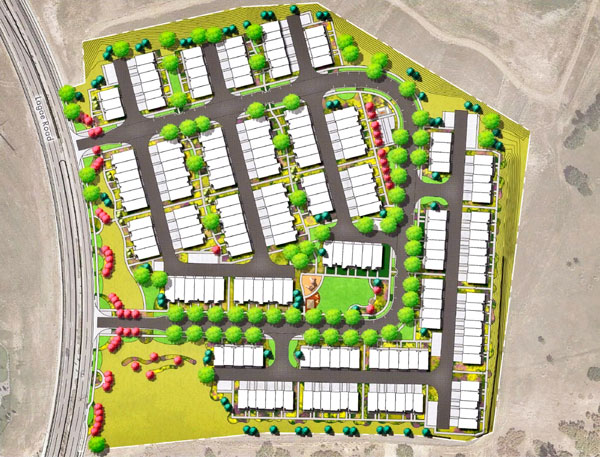 Bill Mahar, certified planner and senior associate for Norris Design, the design firm hired by Century Communities, said during the planning commission meeting that the goal was to create a neighborhood that attracts young families, young professionals and retirees.
One park area is geared toward adults, with a bocce ball court, table tennis and seating with a shade structure. The second park is for all ages and will have a screen for movies in the park and a nature-based playground that encourages creative play, Mahar said.
Castle Pines City Council previously approved the zoning for the site during a public hearing. The planning commission provides final approval of site plans prior to construction, aside from building permits that go through an administrative process, said Sam Bishop, community development director for Castle Pines.
During the September 24 virtual meeting, the commission found that the site plan proposal met the criteria of the City's comprehensive plan and all requirements for developing a property in Castle Valley.
According to Bishop, the planning commission may impose conditions as a requirement of approval for a site improvement plan. In the event conditions are imposed, City staff ensures those conditions are met prior to finalization.
The site improvement plan includes a detailed layout showing the location of buildings and parks on the site. It also contains landscaping plans, building elevations, and technical reports such as traffic impact studies. The town homes will be spread out among 34 different structures, with the highest being 37 feet tall. Most three-story buildings range in height from 33 to 40 feet.
The owner-occupied town homes will range in price from the high $300,000s to the mid-$400,000s.
The site was originally zoned in 2008 to allow for a variety of uses, including a school, bank, church, cultural facility, open space/trails, park/playground, recreation facility (indoor or outdoor), community center, retail business and professional office space. City Council adopted an amendment to the development plan in November 2019 and added single-family attached residential homes as an allowable land use in PA7.
By the Numbers
Number of town homes: 187
Highest building: 37 feet
Approximate price range: High $300s
to mid-$400s
Size of development: 18.75 acres
Overall density: 10 dwelling units per acre
Sq. footage of units: 1,100 – 1,800
Number of parking spaces: 646