November 1, 2020
/
/
Comments Off

on Historic Sandstone Ranch
Douglas County's newest open spac
Information provided by Douglas County; photo courtesy of Flannery Cool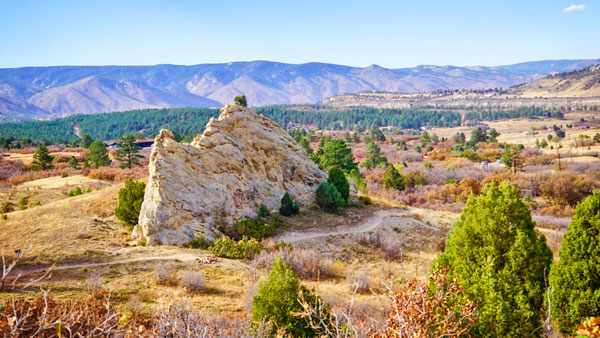 Douglas County's newest open space resource, the 2,038-acre Sandstone Ranch, is one of the largest and most historic properties in Colorado. It is now open for public access.
The official public access opening follows an extensive planning process that culminated in the adoption of the Sandstone Ranch Master Plan which included input from participants representing residents from Castle Pines and other surrounding County communities. This plan provides a vision for the property that allows appropriate public access while conserving the historic ranch operation; wildlife habitat and corridors, as well as the Pike National Forest connectivity; vegetation and other natural resources.
"The Sandstone Ranch acquisition preserved so much more than 2,038 acres of land," said Douglas County Commissioner and Board Chair Roger Partridge. "It has preserved the County's history, heritage, wildlife habitat, as well as other cultural and natural resources."
The County's 2017, $18,750,000 acquisition of Sandstone Ranch, located along the foothills between Denver and Colorado Springs, was achieved in part with sales and use tax revenue from the 1994 voter-approved Douglas County Open Space Fund, revenues exclusively dedicated to the protection of open space and as well as for funding County parks.
Additionally, the Sandstone Ranch acquisition benefits from the County's $6 million funding partnership with the Chatfield Reservoir Mitigation Company (CRMC). The CRMC was formed in 2015 to implement the Chatfield Storage Reallocation Project, that will allow for reliable water storage and enhanced water supplies for users in the South Denver metro area. The CRMC partnership in the Sandstone Ranch acquisition will provide mitigation for the impact of the Chatfield Reservoir expansion on riparian habitat, wetlands and wildlife. The Douglas Land Conservancy will hold the conservation easement on Sandstone Ranch, and in this role will be responsible for the protection and conservation of the natural character and habitat of Sandstone Ranch in partnership with Douglas County. The County is also in the final process of securing Great Outdoors Colorado (GOCO) funds. A fund created by voters in 1992 that invests a portion of Colorado Lottery proceeds to help preserve and enhance state parks, trails, wildlife, rivers, and open space.
Now in its 26th year, the Douglas County Open Space Program, including the Sandstone Ranch acquisition, has protected 64,544 acres in Douglas County through a combination of fee purchases and conservation easements, through partnerships with GOCO, Colorado Parks and Wildlife, land trusts, private landowners and others. For every $1 of sales tax funds spent, the County has received $2.79 in partnership funding. To learn more about recreational opportunities at Sandstone Ranch read the story on page 23. To learn more about its historic beginnings read the Wildcat Lore segment on page 20.