Trek around Douglas County for geological finds
May 1, 2011
/
/
Comments Off

on Trek around Douglas County for geological finds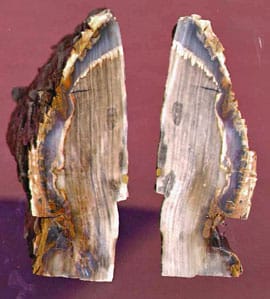 The majority of petrified logs in the area are of the laurel family. Occasionally you can find a conifer, like this one which retains its cell & bark structure and the seasonal growth rings.
by Patte Smith with contributions and photos by a Castle Pines resident Ken Turnbull
Our community and county are full of natural beauty – some we can view openly, others hidden in our midst. During the next few issues, The Castle Pines Connection will feature a few of the geological and archeological discoveries that are part of Douglas County.
Near Highland Point in Highlands Ranch there is a prominent bluff located south and east of Quebec and McArthur Ranch Road. This area is private and a site of numerous petrified logs which have not been officially dated, but are believed to be millions of years old. These petrified logs were found in layers of sandstone and fine- and coarse-grained stone layers, some layers are twenty feet deep. Fragments of petrified wood have also found in the topmost layer of soil, so while this area is private, keep a sharp lookout while walking around the beautiful open spaces of Douglas County.
Along the various rims of the bluff and canyon, more than one hundred logs have been discovered that are a foot in diameter or larger. The largest logs are three feet in diameter and seventy five feet long – quite an extraordinary find in "our own backyard."
Several large logs have also been found a few miles east of this location, but they are not easily found and are hidden by the terrain and plants covering the area. Pieces of petrified wood have been found in the surrounding area along the South Platte River and as far east as Parker.
Petrified wood is formed when a log or branch is buried in mud very soon after it falls before it can decay by exposure to air or bacteria. Mineral rich ground water soaks the log. Over many thousands of years, minerals replace the wood. The more porous "growth" rings are replaced first by the minerals so the concentric ring pattern of the wood and even its cell structure is preserved.
Interesting facts and astounding sights are part of Douglas County – get out, take a walk or hike and see what you can find!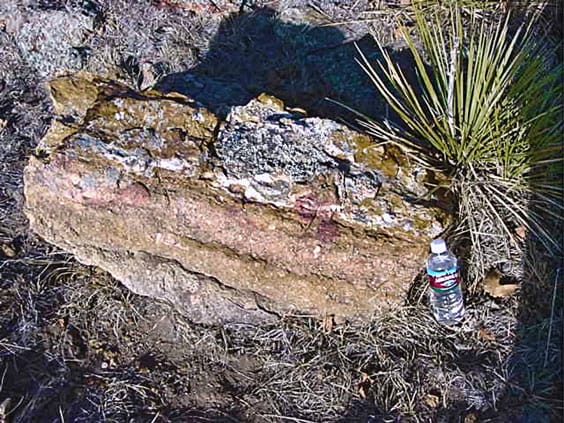 A piece of log lying on the surface with a water bottle placed to show its scale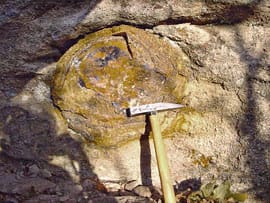 Logs appear to be placed along different angles, and no consistent parallel orientation can be discerned. However, mapping of log orientation may reveal clues as to the depositional environment. These logs are horizontal or slightly dipping. To date, no logs have been found in a vertical upright orientation.