Well-respected real estate broker Linda Houston retires
May 1, 2011
/
/
Comments Off

on Well-respected real estate broker Linda Houston retires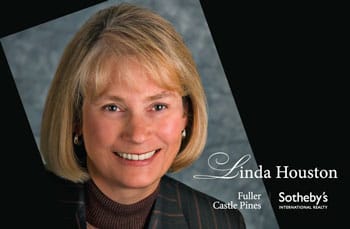 by Patte Smith
After twenty five years of selling real estate in the Denver-metro area, Fuller Sotheby's International Broker Associate Linda Houston retired last month. "It's bittersweet retiring from a wonderful company and from the real estate profession," smiles Houston. "I've made many friends throughout the industry and across the state during my years as a broker, and that part is hard to give up."
Houston notes that she fell into the real estate business in 1983 after casually mentioning to a vice president of a home building company that she would like to try selling homes. He steered her in the right direction and she got a part-time job showing model homes to prospective buyers – and that's all it took – she started her twenty-five year career. "I never thought I would be a realtor for this long, but I truly enjoyed it."
"I sold my first home in Castle Pines in 1986. I fell in love with the area and for ten years I tried to cajole my husband into buying a home here – he was by far the hardest sale I ever encountered," laughs Houston. "After plotting and planning with the help of close friends, he finally agreed that this was a great community and a beautiful place. We moved into our home in Castle Pines in 2000."
Over the years, Houston served as a volunteer in several real estate organizations and she feels that this was one of the greatest parts of being involved in real estate. She has been honored with numerous sales awards during the years, and she served on the board of directors for the South Metro Denver Realtor Association® and the Colorado Association of Realtors®. She also served as the 2005 president of the Colorado CRS Chapter #1.
Houston is going to spend time now with friends and family, which she notes has been hard while in the real estate profession. "Realtors work when most other people are off of work – a lot of nights and weekends," Houston explains. "I have had a great time being part of this business, but now it's time to focus on personal relationships and I want to be available to help my aging parents who live in Salt Lake City."
"It certainly has been exciting watching our Castle Pines community grow and I sure would like to see a public recreation center in Castle Pines. I think it would benefit our entire community. This is a great place to live and work – one terrific community."
If you want to keep in touch with Houston, she can be reached at her personal e-mail address.