TTE kids help the less fortunate at home and far away
January 1, 2015
/
/
Comments Off

on TTE kids help the less fortunate at home and far away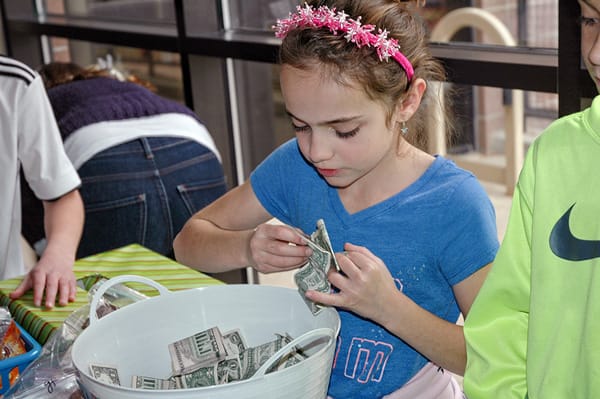 Third grader Harper Linn keeps track of funds raised at a lunchtime bake sale.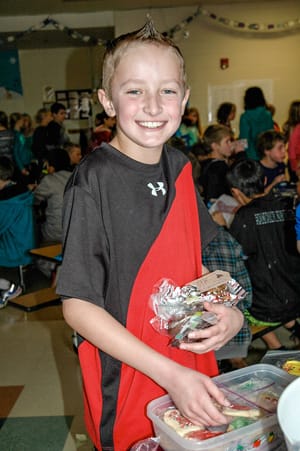 Fifth grader Kyle Mackzum was an enthusiastic supporter of the third-grade bake sale, saying he enjoyed "great treats for a good cause."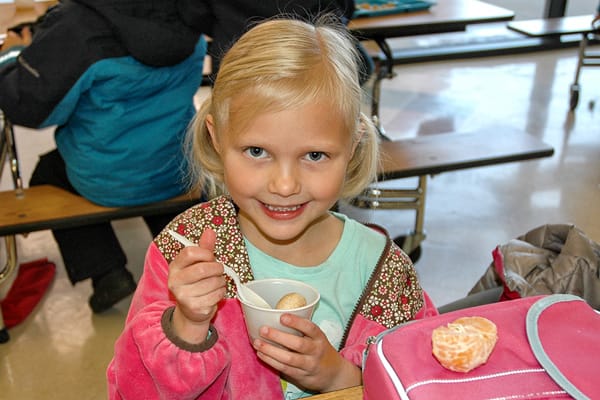 First grader Rosie Benson, samples some "stone" soup at lunch time. Benson, along with her fellow first graders raised $1,300 to benefit the charity Heifer International.
Article and photos by Lisa Crockett
Good eats for students at Timber Trail Elementary are enabling others to eat well in both the local community and abroad. As part of their studies this semester, students in the first and third grades gave a lot of thought to ways they could help their fellow human beings. For most students, finding ways to help others in impoverished circumstances meant finding ways to feed them, first and foremost.
"This unit started with the idea of teaching the kids about rocks and soil," said first grade teacher Kim Ulery. "We then went on to learn with the kids about sustainability and talked about what that meant. Eventually, we worked with them to develop a project to support people through Heifer International.
Heifer International is a charity that provides people in need in 30 countries worldwide with livestock, trees and seed, which in turn provides both food and a sustainable income. A cow, for instance, provides dairy products that can be either eaten or sold; it can also be bred to produce offspring, which can be slaughtered for meat.
"Our proposed world-class outcome question for this unit was 'How do our actions impact sustainability'?" said Ulery.
It's a pretty big concept for young students, so teachers used the folk tale "Stone Soup" to illustrate the principle of many people coming together to benefit the larger group. During a lunch period last month, the first grade invited the school to bring donations to benefit their Heifer project, and in turn shared a serving of "stone" soup to anyone who wanted some.
Douglas County School District Nutrition Services department got in on the act, with DCSD Executive Chef Jason Morse whipping up the soup in the school's kitchen. A veggie soup (which was actually made without stones) was given free of charge to all takers, along with a warm bread stick.
"It's really fun to be here and serve the whole school," said Morse. "We go to schools and do these kinds of events and it's our passion and our love; and, it makes our staff feel like rock stars."
The Stone Soup project raised more than $1,300. Not to be outdone, third graders cooked up another project designed to help the needy, but this time it was to benefit folks right here in the Douglas County community. Their project had roots in economics and civics, specifically learning the difference between "wants" and "needs" and looking for ways to help the less fortunate right here at home have a few of each for the holidays.
The third graders decided to sponsor six families through The Crisis Center in Castle Rock. Students committed to earn money on their own at home to donate. When they decided they wanted to earn more, they devised a plan to hold a bake sale and offer goodies to all students during their lunch hour.
"I really liked this project," said fifth grader Kyle Mackzum, an enthusiastic customer at the third-grade bake sale. "They were great treats for a good cause."
In total, the third grade raised roughly $4,400 and used the money to purchase a holiday meal and gifts for six families. Using skills they learned in class, the students worked hard to make their money count by purchasing necessary items at the best price.
"After comparing costs and creating a spending proposal, the students determined where their money would be best spent to maximize meeting the wants and needs of the family," said third grade teacher Julie Haverstick. "The kids then went shopping for the items on their list. Goods were delivered to The Crisis Center in time for the holidays."