August 29, 2014
/
/
Comments Off

on TTE Library 2.0
Fifth grader Megan Ruder gets comfortable on a buoy stool, one of the new pieces of equipment in the Timber Trail Elementary library.
Article and photos by Lisa Crockett
Timber Trail Elementary (TTE) is starting a new year with lots of new tools for students in its library. Using funds raised by the Timber Trail Education Alliance (TTE's parent-teacher organization), the library is now outfitted with tables, chairs, and shelves designed to allow for maximum flexibility.
"We can reconfigure the tables and move the shelving so that we can have people meeting together in a large group or in several small groups, depending on the situation" said Dawn Smith, who manages the TTE library. "Everything is on casters, so moving things around is quick and easy."
Seating in the library has sort of a space-age look. In addition to cheerfully-colored upholstered benches and throw pillows, the library is home to some state-of the-art stools, called buoy stools and hokki stools. Both types of stools are height adjustable and allow for 360 degrees of movement from students.
"There are studies that show that allowing people to fidget enables them to focus better," said Smith. "These stools let kids move around a little. Then, as they focus on what they are doing, their movement tends to lessen. So, I can look around the room and easily see if I have students' attention."
The final piece of the new library is a 60-inch "smart" television, which allows teachers and students to access the internet and present videos to large groups.
"I love all the new stuff in the library," said fifth grader Taylor Adis. "It makes being here fun."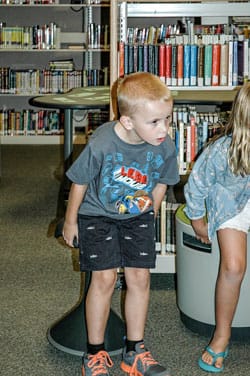 Taylor Adis starts the new school year right, with a book from the library.
Second grader Aiden McNeil checks out a hokki stool, which is designed to allow students greater ability to focus.