Wacky cyclists wanted for fun event
August 29, 2014
/
/
Comments Off

on Wacky cyclists wanted for fun event
A few of the Wacky W participants lined up in front of Rocky Heights Middle School for the 2013 race. Race routes can be found at www.wackyw.com.
By Patte Smith; courtesy photo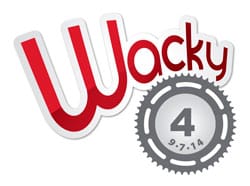 Calling all Wacky bicyclists – grease those gears, put on the helmet, climb into those flashy riding togs, and head over to Rocky Heights Middle School for the 4th Annual Wacky Bike Ride on Sunday, September 7.
The Wacky is a one-day cycling event to encourage fitness and fun while raising money from each registration to benefit Douglas County schools.
Riders enjoy a spacious staging area at the school, stocked aid stations, excellent post-ride food, an amazing expo, and fun-filled goodie bags. Cyclists get to choose from four different race options:
Six mile – perfect for kids of all ages or anyone looking for a fun ride on the trail systems.

45 mile – offers some climbing, flats and beautiful terrain taking riders through the major cities of Douglas County.

62 mile – same as the 45, but with beautiful scenery rolling out and back along Highway 105 to reach a metric century.

100 mile – same as the 62, but with MORE beautiful scenery, including Spruce Mountain Road and Larkspur.
When you sign up for the Wacky, a set amount from your registration automatically goes to supplying brand new school supplies for students in Douglas County through the Kits for Kidz program. The set amount is $10 for the 45, 62, and 100 mile distances and $5 for every 6-mile registration. Additional donations are also accepted during registration. Every $20.14 provides a full school supply kit for a child in any grade in Douglas County Schools and the kits are distributed by the Douglas County Educational Foundation (DCEF).
Don't wait. Register now and get a choice of fun gear. Six-mile riders get their choice of Wacky 2014 socks, red beanie, black visor, or black race cap. All other riders receive the 2014 Wacky jersey as a part of their registration.
Not a rider, but want to be a Wacky volunteer? There are a variety of volunteer positions open from goodie bag stuffing to event-day help.
For registration information or to volunteer for the Wacky, visit www.wackyw.com.