Castle Pines Artists unite at Art on the Edge
August 29, 2014
/
/
Comments Off

on Castle Pines Artists unite at Art on the Edge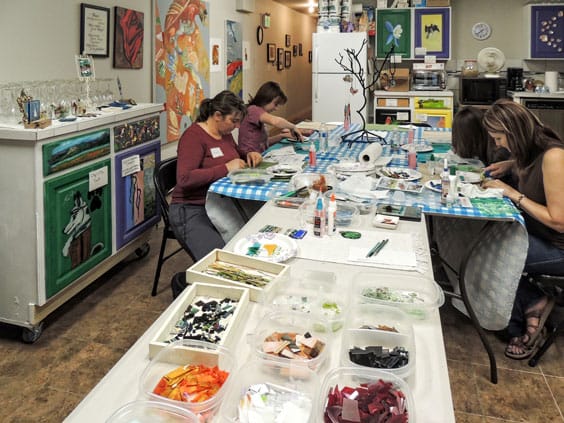 Hidden Pointe residents Michelle and Amber Cambell (on left) take part in a fused glass workshop at Art On The Edge in Castle Rock where Castle Pines artists have their art displayed.
By Lisa Nicklanovich; courtesy photos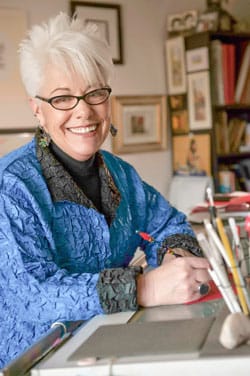 Evette Goldstein is a calligraphist who teaches out of her Castle Pines studio and at Arapahoe Community College. Goldstein is chairing the upcoming "Pink" exhibit at Art On The Edge in Castle Rock on September 26 and is an abstract painter and pencil portrait artist.
Kristine Orr of Forest Park and Evette Goldstein of KnightsBridge have both been involved with the Greater Castle Rock Art Guild (GCRAG) for the last eight years, since its inception.
Orr is a diverse artist who uses watercolor, oils, acrylics, and mixed media and offers small classes out of her home studio. Goldstein, a former aerospace engineer, makes her living as a calligraphist, but also creates pencil portraits and abstract paintings. Both artists volunteer for the GCRAG, which runs the gallery Art On The Edge (AOTE) at 314 Wilcox Street in Castle Rock.
The non-profit GCRAG met at various locations all over Castle Rock for years until finding the exposed ceiling and brick walled space one year ago. The location is a lovely gallery for displaying Orr and Goldstein's art as well as pieces created by artists from all over the Front Range.
Orr said, "I like the opportunity and the camaraderie of being part of the AOTE gallery. We all help each other and have many ways to show our art." Currently Orr has art in about 15 different venues in Castle Rock. Goldstein is chairing the upcoming "Pink" exhibit at the AOTE gallery on September 26 which honors breast cancer survivors and those who did not survive, increasing awareness about early detection.
For Goldstein and Orr, the AOTE gallery is more than a place to show their art. Goldstein said, "There's an unspoken understanding and connection between the artists. From hobbyists to professionals, the quality of talent and skills defies description in this little space in Castle Rock, Colorado." The variety of handcrafted art is remarkable and includes jewelry, ceramics, wood, many mediums of painting, metal, photography, glass, and more.
Ellie Ludvigsen, president of the GCRAG, is supportive of artists of all ages and abilities. Ludvigsen is passionate about mentoring young and new artists and understands the value of community collaboration. Ludvigsen provides many opportunities for kids who need community service hours and encourages youth and adults to attend open studios and classes that explore different mediums each week.
Ludvigsen said, "We have a show the final Friday of every month; a free "meet the artists" reception from 5 p.m. to 9 p.m. with drinks and snacks, and often live music." With the monthly exhibits, classes, two shows a year at the Castle Rock library, participation in the National Arts Program exhibit coming up in October, and a growing teen program, Art On The Edge is a very appropriate name.
For more information, visit www.GCRAG.com, www.wix.com/kristineorrartist/fineart, and www.prettywriting.com.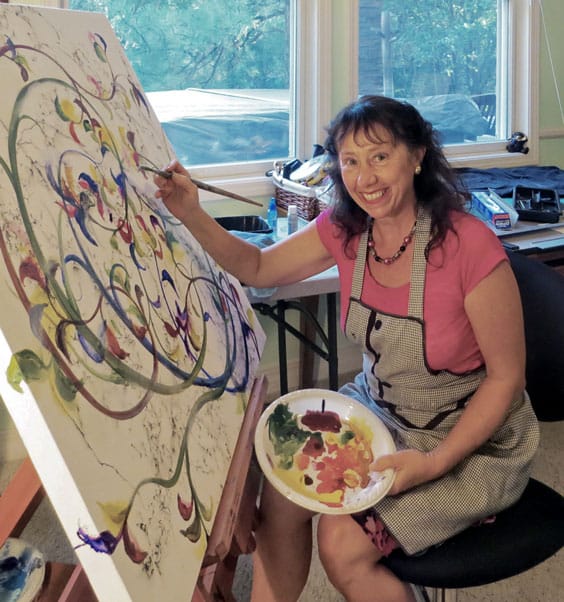 Kristine Orr is a diverse artist who enjoys creating realism, contemporary, landscape, and abstract art in her Castle Pines studio. Orr volunteers and has art displayed at Art On The Edge in Castle Rock and will be participating in an upcoming "14 Artists" exhibit at the Wazee Union Gallery in Denver.