United States Olympic & Paralympic Museum
February 1, 2022
/
/
Comments Off

on United States Olympic & Paralympic Museum
By Celeste McNeil; photos by Lynn Zahorik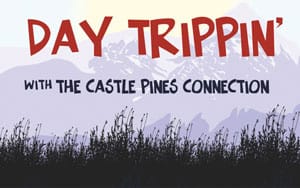 Colorado Springs has long been dubbed Olympic City, USA. Now there is a museum to prove it. Opened in mid-2020, the United States Olympic & Paralympic Museum (USOPM) boasts 60,000 square feet of innovative and interactive displays and simulations. The USOPM's mission is "to honor the Olympic and Paralympic ideals; document and share the history of the United States' Olympic and Paralympic participation, and celebrate the achievements of U.S. Olympic and Paralympic competitors."
The USOPM invites guests to dive into Olympic history as soon as they enter. The immersive Hall of Fame exhibit on the first floor allows visitors to search for and learn about U.S. athletes and Olympic events from history. The innovative architecture draws visitors to new heights with multilevel screens and digital media graphic displays throughout the museum, but especially in the first-floor lobby with impressive 40-foot LED screens.
Upstairs tells the history of the Olympic Games, with artifacts, images and stories from ancient to the modern games. Another exhibit is the Athlete Training gallery, where visitors can try their skills at six interactive sport demonstrations.
The Lab gallery gives visitors a glimpse into the technology and science that helps make U.S. Olympic and Paralympic athletes some of the best in the world. Artifacts like shoes, wheelchairs, swimsuits and prosthetics are on display as well.
The Parade of Nations culminates in a 360-degree immersive video exhibit, as visitors walk alongside virtual athletes. The exhibit also includes historical photos of Team USA from many past Olympic and Paralympic parades.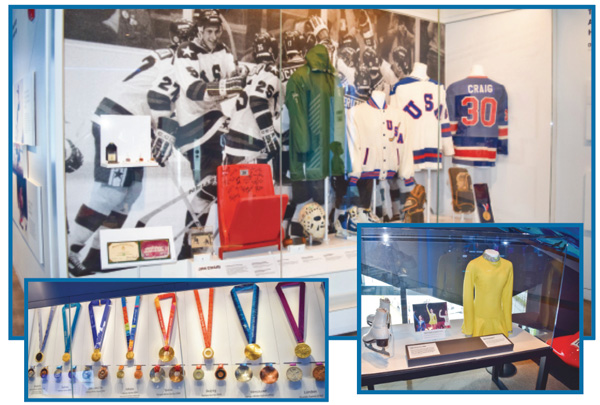 The Summer and Winter Games each have a separate gallery, filled with artifacts, stories, and in-depth information about each sport. Paralympian Chuck Aoki's rugby wheelchair is one of the must-see artifacts in the Summer Games gallery.
Aoki is arguably one of "Team USA's most impactful wheelchair rugby players," according to USOPM information. He turned to the sport after watching the 2006 movie Murderball.
Longtime Colorado resident and Olympic gold medalist, Peggy Fleming, is credited with reviving American figure skating. Her skating dress is among many other artifacts on display in the Winter Games gallery.
The world-wide impact of the Olympic and Paralympic Games is the focus of another exhibit. A rotating gallery currently displays art of LeRoy Neiman, the official Olympic painter for five games, illustrating the significance of the games.
The USOPM has a medal collection, including nearly every Olympic and Paralympic medal since the 1896 Athens Games. Olympic torches are also on display. Torches and the torch relay are important aspects of both Olympic and Paralympic games. The torch is first lit in Olympia, Greece with the aid of a parabolic mirror reflecting the sun's rays. Modern torches reflect some unique aspect of the host country.
The USOPM is "dedicated to America's greatest athletes and their compelling stories, with artifacts, media and technology behind the athletes who make the United States proud." It was named the country's "best new attraction in 2020" by USA TODAY's reader's choice awards. The USOPM touts itself to be "one of the most accessible and interactive museums in the world, designed so all guests experience the museum the same way."
The facility is fully ADA compliant. Many Team USA athletes participated throughout the design and creation of the USOPM to ensure "authentic experiences with universal design." To learn more, visit https://usopm.org.