Weird science at Buffalo Ridge
May 1, 2016
/
/
Comments Off

on Weird science at Buffalo Ridge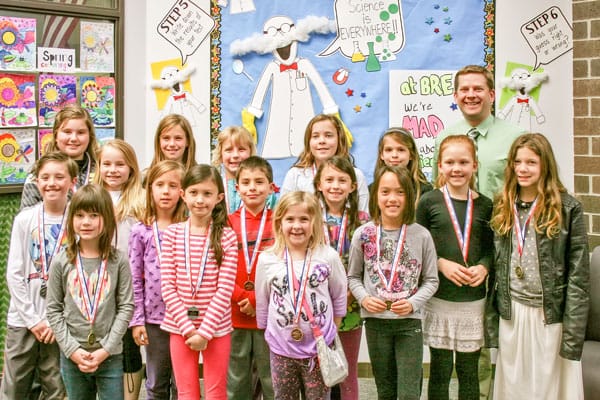 BRE Science Fair winners enjoying their moment in the sun. Pictured above are Mary R., Charlotte S., Landrey B., Lia P., Kaylee E., Maddie K., Principal John Veit, Morgan B., Chase C., Jenna P., Selah B., Joshua B., Lana C., Kaylee H., Maycee T., Riley C., and Sophia P.
Article and photos by Kathy Fallert
April 15 wasn't just for filing taxes at Buffalo Ridge Elementary (BRE) as they held their fifth annual Science Fair in the school's gymnasium. Almost 20 percent of BRE's students participated with 34 individual science projects and another 58 students taking part in group efforts.
Students presented their projects to a panel of judges throughout the day on a variety of project topics, including the solar system, germs, potato energy and even stain removers. BRE Principal John Veit commented, "Our students were able to demonstrate so much learning through science with our annual science fair this year. The kids not only shared what they learned, but their learning process with their successes and their failures along the way. That's where the learning happened."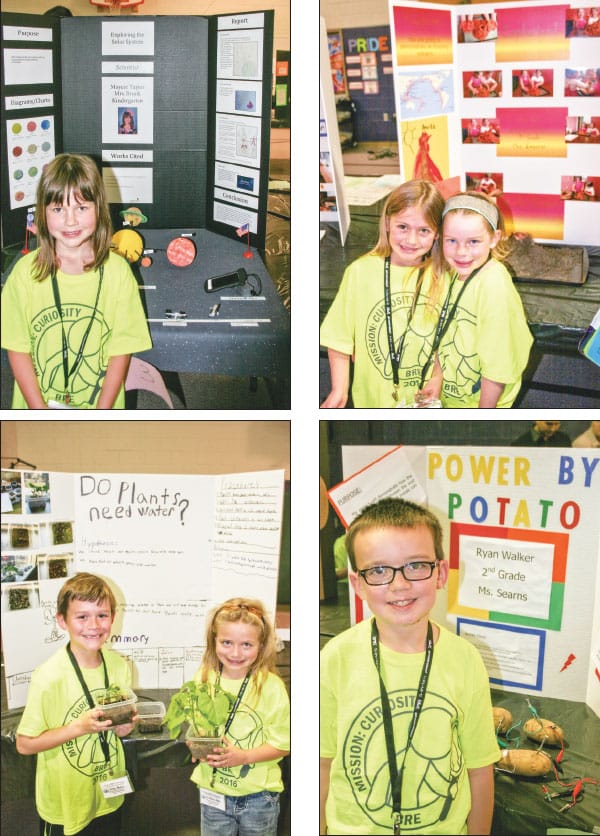 The BRE Science Fair was fun for all who participated. Pictured above are several of the 58 students who participated standing with their projects.
The Science Fair winners were announced on Monday, April 18 and presented with a medal for their efforts. The winners were k-2: first place Maycee T., second place Selah B., and third place Sophia P.; 3rd grade: first place Morgan B., Kaylee H. and Maddie K., second place Lana C. and Riley C.; third place Joshua B.; 4th grade: first place Jenna P., second place Kaylee E., third place Mary R. and Charlotte S.; 5th grade: first place Lia P., second place Chase C., and third place Landrey B.
Veit added, "A huge thank you to all of the volunteers and coordinators. Kathleen Pirazzi and John Black spent hours coordinating this event for our students. Some of our judges came from Rocky Heights and Rock Canyon to support our young scientists as well as a sponsorship from United Launch Alliance. I'm just excited to be part of a community event that focuses on our students!"
To learn more about BRE, visit www.sites.google.com/a/dcsdk12.org/buffalo-ridge/.