What is in a family name?
September 1, 2019
/
/
Comments Off

on What is in a family name?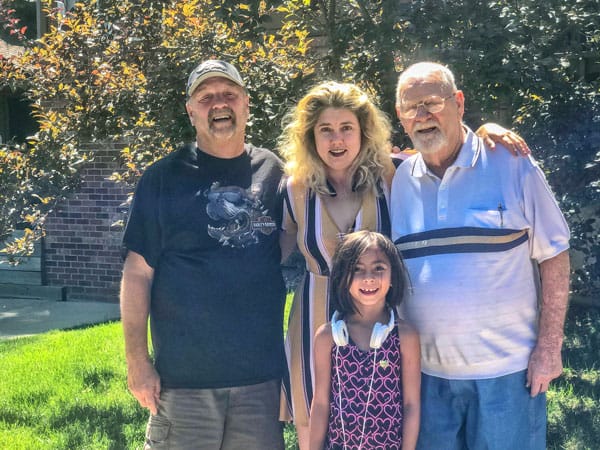 Four generations of Fallerts learned about their roots this summer. Brook Fallert Laguana (center) pictured with her father, Castle Pines resident Mitch Fallert (left), her grandfather Jerry Fallert (right) and her daughter Melelani Laguana (front).

By Kathy Fallert; photos courtesy of Brook Fallert Laguana
My stepdaughter, Brook Fallert Laguana, went through a recent career change that led to some interesting surprises for the Fallert family. She quit her day job with a puppy rescue to pursue her passion; genealogy. Brook started her own company called Brook's Branches where she tracks down family histories. In fact, she did some personal research of her own this summer in Germany.
This all started when Brook's husband James, a high school choir teacher, volunteered to host German exchange students last December. Fifteen exchange students came to Colorado, two of whom stayed with the Laguanas at their home in Aurora. In return, the Laguanas along with nine Colorado students, traveled to Germany this summer from June 17 to July 1 and stayed with host families there.
The Fallert roots can be traced back as far as 1600 to a small German village called Sasbachwalden, but Brook wasn't sure how far that would be from where they were staying. Brook remarked, "I fully expected to have to take a long train ride to get to Sasbachwalden. As it turned out, our hosts lived in Sasbach which is the very next village over from Sasbachwalden. I couldn't believe it! It's like it was meant to be."
Brook's host family put her in contact with the Sasbachwalden village historian, Markus Bruder. However, Bruder had no interest in helping after having had previous experiences with Americans that left him feeling taken advantage of. After a 20-minute conversation with Brook's extremely persuasive German host mom, Bruder decided to help out – which was fortunate, as Bruder turned out to be a very amiable and beneficial resource.
Brook learned much from Bruder about the Fallert history in Sasbachwalden. Her fourth great-grandfather, Bernhard Fallert, was mayor of Sasbachwalden from 1818-1823, and it turns out the Fallert name is surprisingly well-known in the area. There was even a fictional television series called "The Fallerts." Bernhard's first cousin, Josef Fallert, was a miller. The mill was called Talmuhle, which is now the Hotel Talmuhle, adjoined to the very upscale Restaurant Fallert.
Brook's eighth great-grandfather, Jacob Fallert, lived and worked on a farm in Sasbachwalden called Hofmatton. The old building from 1660 still stands but has been added on to and renovated over the years. There is a popular winery there today although it's no longer owned by Fallerts. The 1600s is as far back as Brook could trace the Fallert lines because the Catholic church, which held all the records, was destroyed by a fire.
On the second-to-last day of their German trip, Brook met her sixth cousin Andreas Fallert, an ancestor of Josef Fallert, who still lives in Sasbachwalden. The Laguanas were invited for coffee and cake at Andreas' home and met his family. With language being a barrier, James (who happens to be Hawaiian) and Andreas began playing music together. Andreas, coincidentally a music teacher also, pulled out a ukelele and the jam session began.
"I felt a family connection right away and was amazed by how similar we were, especially the musical connection. My family has always been very into music," Brook reflected. "Andreas was also doing his own remodeling on his house just like my dad does."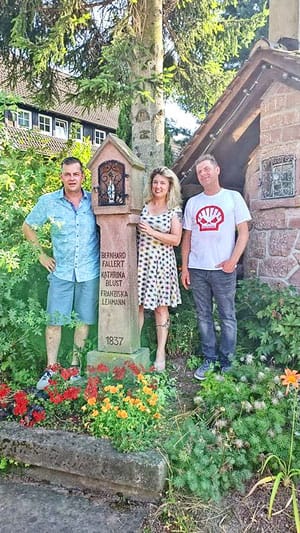 Pictured left to right: Sasbachwalden historian Markus Bruder, Brook Fallert Laguana and her sixth cousin Andreas Fallert connected this summer when Brook took a trip to Germany to track down some Fallert family history. The group is pictured here with a tombstone of Brook's fourth great-grandfather Bernhard Fallert.

The seven-square-mile village was quite stirred up by Brook's visit. Everyone was shocked that an American had so much interest in their small town that they actually wrote an article about her visit in their local newspaper.
Brook concluded, "It was incredible to overlook the same vineyard where my family blood planted grapes 400 years ago. The only thing separating us was time. I would love to help others have this same experience!"
If you're interested in tracking down your own family tree, visit Brook's website at www.brooksbranches.com.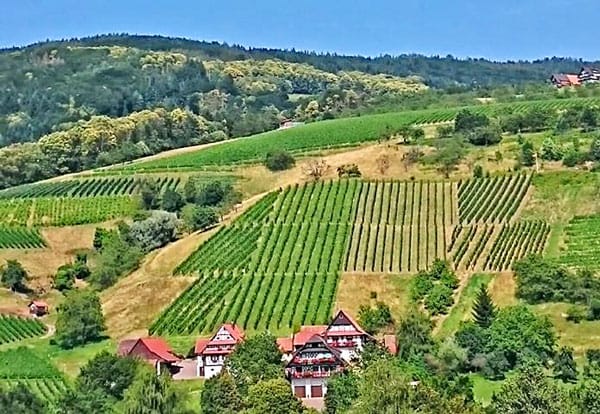 This landscape is the former Jacob Fallert winery and farm with buildings dating back to the 1600s.