Why spend marketing dollars on print media?
July 1, 2016
/
/
Comments Off

on Why spend marketing dollars on print media?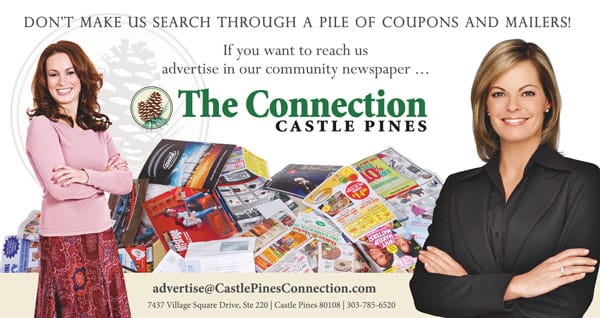 By Terri Wiebold; with contributions by Tricia Anthone
Since the inaugural issue of The Castle Pines Connection in February 2009 (ironically the same month The Rocky Mountain News published its final edition), The Connection newspaper has been direct mailed to homes and businesses in the 80108 ZIP code free of charge.  Our community "lifestyle" newspaper has steadily grown in size, readership and distribution – all made possible by the local businesses that advertise in the paper each month.  Yes, The Connection is 100 percent funded by advertising dollars.
I recently had a discussion with my friend and fellow publisher, Tricia Anthone (Our Neighborhood Directory by Sponsored Publications, Inc.), about the role and importance of print advertising.  The insights emerging from that discussion are worthy of sharing:
"Only print can offer businesses a tangible way to create positive associations with the real-world environment occupied by real people."

The advent of the "digital age" has led some to believe that human nature is actually being altered by advances in the way we access information.  Nothing could be further from the truth.  Changes in the way we access information or interact with others should not be confused with the core motivations impacting our inclination to do so.
It is a costly, but unfortunately fairly common mistake.  As humans, we're social – tribal – in the way we associate with others.  We gravitate toward faces we know and recognize, whether that face is the literal face of a neighbor or whether it is the figurative "face" of a company presented by a logo (the geometric markers of which are, in fact, processed by the human brain in much the same way human faces are).  Our primitive reference for faces we recognize will continue to drive our purchase choices and will impact our affiliation to those with whom we associate and do business.
Make no mistake … in this day and age of technology-driven convenience, digital media is an essential element of any successful marketing strategy.  When people are actively engaged in looking for either your company or the service/product you provide, you simply must be easy to find and access online.  Positioning your business in a publication that offers both print and online access is ideal.
What digital media alone cannot do, however, is provide the market presence essential to generate brand preference:  Recognition, brand alignment, positive association – these are the products of being present in the real world in which your customer lives.
In creating strategic brand alignments essential to positioning a business and making it an integral part of a target-market community, print media cannot be replaced.  Only print can offer businesses a tangible way to create positive associations with the real-world environment occupied by real people.
Imagine for a moment the exposure time a product or brand receives on an electronic format … how fast do you "click" through the pages?  Now contrast that with the lingering image embedded into memory while reading content containing something that interests you.
Finding the appropriate print medium, however, is equally important for your business.  Just having a presence in print is not enough – the "quality" of the publication determines the time/exposure its readers get to the branding message.  Is the audience captive?  Are they spending time on a particular page reading a story?  Have they actively participated in the content of the publication?  Does the printed medium have a "shelf life" in the home or is it discarded after the first glance?  Is there content worthy of keeping the publication around (business reference/contractor/babysitter lists or phone numbers)?  The importance of having reader-valued content in the publication cannot be overstated!
Forty years ago, some began predicting a "paperless society."  Yet, there is more ad-supported print media in circulation today than at any time in history.  This is because savvy marketers understand the importance of print in the strategic alignment essential to building a strong market presence and durable brand preference.
We encourage you to pay particular attention to the (savvy) businesses featured in this publication and ask that you support them and thank them for their participation!