The goats are back in town; fire mitigation underway
July 1, 2016
/
/
Comments Off

on The goats are back in town; fire mitigation underway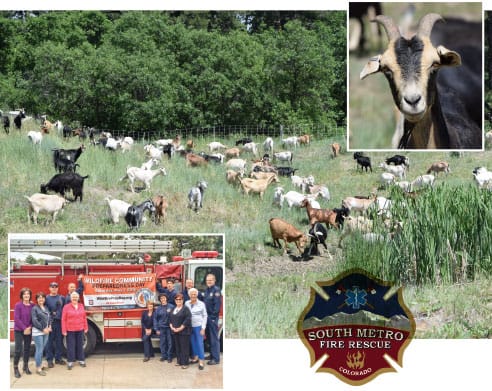 The crew of South Metro Fire Rescue Station 36 met with the PineRidge HOA Board members on May 7 for Wildfire Preparedness Day to plan for the Ready, Set, Goat! event.

Article and photos by Lynn Zahorik; photo courtesy of SMFR
Last month the PineRidge Homeowner's Association (HOA) welcomed a herd of goats onto its open space to conduct wildfire mitigation for the second year in a row. This innovative mitigation program is funded by the PineRidge HOA residents, the City of Castle Pines and a $1,000 grant South Metro Fire Rescue received from the national Ready, Set, Go! (RSG) campaign.
The RSG program helps residents be Ready with preparedness understanding, be Set with situational awareness when fire threatens, and to Go – acting early when a fires starts.
PineRidge HOA hopes to be the catalyst that encourages neighbors to take action in becoming a fire-adapted community. Neighbors are linked by their wildfire risk. If one community is inadequately prepared, the risk level to the entire city increases.
Thanks to the investment of PineRidge HOA, a herd of 300 cashmere Spanish goats systematically worked 20 acres of open space for 12 days in June. Two herders and their dogs were utilized to manage the goats' movement throughout the community's terrain. The goats diligently munched through lush oak groves that were more prolific than normal due to the abundant spring rains. It is estimated the goats, who eat roughly 25 percent of their body weight, removed 29 tons of vegetation last month.
The goal of this wildfire mitigation project was to reduce the vertical and horizontal continuity of vegetation in order to prevent fire from spreading as quickly and from getting into the trees where it cannot be stopped.
To learn more, visit www.southmetro.org or email Einar.Jensen@southmetro.org.