Wild turkeys in their element; a sight to see
November 1, 2018
/
/
Comments Off

on Wild turkeys in their element; a sight to see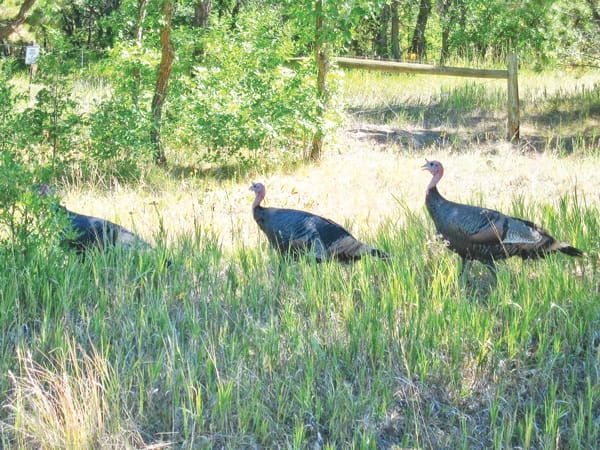 After following the leader as they cross Daniels Park Road, camera-shy turkeys dash into the brush when passersby stop.
Article and photograph by Barbara Neff
On just about any given midday, lucky sightseers along Daniels Park Road or Happy Canyon Road in Castle Pines will be treated to the turkey trot. Flocks of wild turkeys commonly cross the roads, apparently oblivious to the dangers of the road (and the upcoming holiday).
According to the Colorado Parks and Wildlife website (www.cpw.state.co.us), wild turkeys in our nation faced an uncertain future in the early 1900s due to poaching, hunting and destruction of habitat. Because turkeys are an important part of our American heritage and ecosystem, intense efforts began and continue today to protect our wild turkeys.
Two species of wild turkeys now flourish across the U.S., the native Merriam variety commonly seen in Castle Pines, and the introduced Rio Grande variety, found on our state's eastern plains. Colorado boasts healthy wild turkey populations in 57 of our 63 counties, including Douglas County, according to Colorado Parks and Wildlife.
Add turkey viewing to the long list of reasons Douglas County is a great place to call home.