Fourth-grader chalks up a generous donation to diabetes research
November 1, 2018
/
/
Comments Off

on Fourth-grader chalks up a generous donation to diabetes research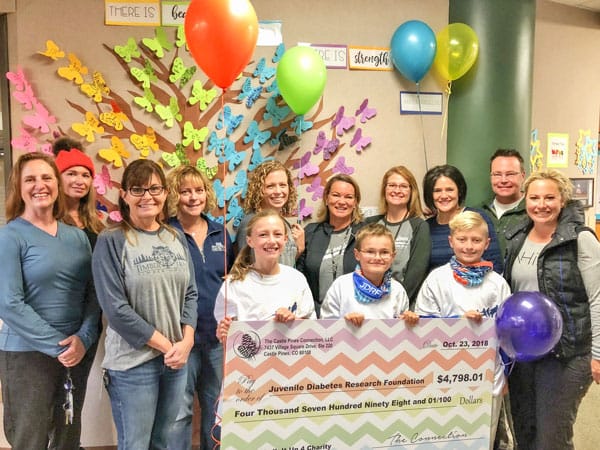 Nine-year-old Nathan Fields (front row center), pictured alongside his friends Molly Terry (front row, left) and Jack Dodge (front row, right) and his family and support team at Timber Trail Elementary School, presented the Juvenile Diabetes Research Foundation (JDRF) with a giant check for $4,798.01 – the proceeds from The Castle Pines Connection's Chalk It Up 4 Charity contest, of which Nathan was the winner. Nathan selected the JDRF because of his personal connection to the organization.
Article and photos by Elise Brassell
This summer, The Castle Pines Connection hosted its annual Chalk It Up 4 Charity event, a sidewalk chalk-art contest for youth in the community to draw "What I enjoyed this summer in Castle Pines."
During the competition, 9-year-old Nathan Fields drew a colorful slice of watermelon with three dimensional seeds and won the grand prize, which included the opportunity to select which nonprofit would receive all of the proceeds from the event.
In October, Nathan, who was recently diagnosed with type 1 diabetes (T1D), chose the Juvenile Diabetes Research Foundation (JDRF) to receive the grand prize check for $4,798.01 (see related story page 13.) Surrounded by his supportive team at Timber Trail Elementary, his family and friends, Nathan presented the giant check to Hannah Hoogenboom, development director, JDRF, to contribute to funding research to find a cure for T1D.
"Any family living with someone with T1D hopes that one day they will find a cure for it. We do not want any other child or family to go through this. The research JDRF does is our hope for the future of these kids," said Pam Fields, Nathan's Mother.
The school and local community have rallied around Nathan and his friends Jack Dodge and Molly Terry, all fourth-grade students with T1D. From Principal Michelle Radke, to Lisa Fugit the school's registered nurse consultant and fourth-grade teachers Paula King and Jeannette Proctor, Nathan, Jack and Molly have caring resources to help them navigate juvenile T1D.
"The staff at Timber Trail has been incredibly supportive and have become part of our T1D family, which is why we wanted them to be a part of the check-giving to JDRF. Being able to give the money to JDRF with our family and friends at Timber Trail meant so much to us," Fields said.
Nathan and his family also got to enjoy fun and treats donated by businesses in our local community, including a pizza and bowling party with three of his friends and a cake from The Bundt Shoppe (rumor has it, the family enjoyed a delicious gluten-free pumpkin spice flavored cake to celebrate!)
Special thanks to all our sponsors and to everyone who contributed to make this year's event one to remember!