Xcel Finally Removes Towering Poles
December 1, 2008
/
/
Comments Off

on Xcel Finally Removes Towering Poles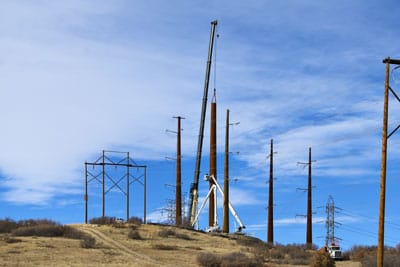 The giant power pole finally comes down near Coyote Ridge Park (photo by Tim Gamble)

by Lisa Crockett
It has been a long wait, but Castle Pines North (CPN) has finally bid a not-so-fond farewell to an 180-foot utility pole which has towered over the city for nearly a year.
Last winter, residents from across CPN voiced their objection to two towering poles placed at the top of the ridge adjacent to Coyote Ridge Park.
Xcel agreed to remove the two poles, 165 feet and 180 feet, respectively, and replace them with a 105-foot pole and a 120-foot pole. Installation of both poles was completed in late November.
Special thanks to CPN resident and community volunteer Bruce Thompson for volunteering his time to work on this project.
The removal and replacement of the two towers represents months of painstaking negotiations between Xcel and the community task force.
"The new lines will be over the ridge, and they will be low enough that a number of CPN residents won't really be able to see them," said Thompson. "For those of us who can see them, we will just see the tops of the towers. The visual impact has been greatly reduced."