Yearbook staff makes memories while preserving them
December 1, 2016
/
/
Comments Off

on Yearbook staff makes memories while preserving them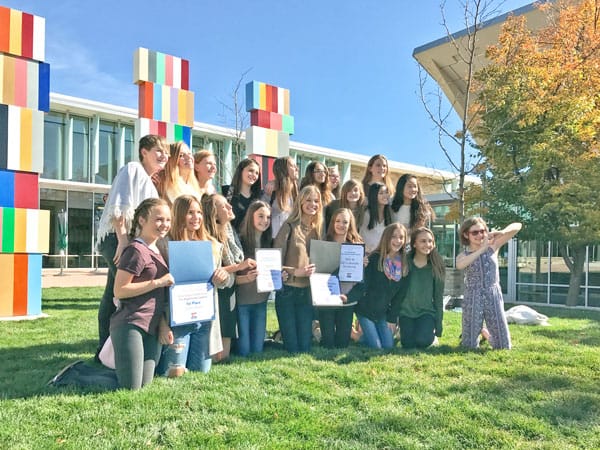 The RHMS yearbook staff responsible for creating the 2016 yearbook celebrate winning the Colorado Student Media Association All Colorado Award in Fort Collins, October. 20.


Submitted by RHMS student Zoe Bair; photo courtesy of Tim Ryckman
Click! Snap! Last year, Rocky Heights Middle School (RHMS) yearbook staff created a wonderful, interactive yearbook to highlight the main points of the year. Little did Madeline Ashback, Katie Cranston, Eryn Collins and Emily Glynn know, their work would go on to win prestigious awards from the National Scholastic Press Association (NSPA).
The awards were a complete surprise to the fortunate students. Tim Ryckman, who runs yearbook, discovered on September 29 that his students won NSPA's awards.
"I was first told by my teacher, Mr. Ryckman, that it was a good picture," said eighth grader Emily Glynn, current photo editor of the yearbook staff. Glynn's photo won one of the Top Ten Best Feature Photographs in the nation.
"Ryckman said it was good enough to enter as one of our photos for one of the competitions. Then, in class, Mr. Ryckman told me that my photo had won first in the state category against other middle schools. I was in complete shock because I didn't realize that it was actually that good," Glynn said.
According to Ryckman, "When I found out that some of our kids were being honored, I was so incredibly proud of them. I was happy to see them recognized for the incredible amount of work that our yearbook staff does every single day for the students of Rocky Heights that usually goes unrecognized. They are truly exceptional students."
Another eighth grade student, Eryn Collins, won one of the Top Ten Best Middle School Photographs in the nation. "I definitely think that these awards impacted the yearbook and other staff members," said Collins. "When we win awards, it makes our book seem like we have so many amazing photos and photographers (which we do)!" He continued, "I also think it impacted the yearbook by lifting it to the next level of yearbooks. Now it seems like all the photos in the yearbook are award-winning and are spectacular."
Not only does RHMS yearbook have amazing photos, it also has amazing designs. A current ninth grader at Rock Canyon High School, Madeline Ashbeck won one of the Top Best Yearbook Spread Designs in the nation. "Winning this award made me realize how it is important to push yourself to do your best because it will all be worth it when you reach the finish line," said Ashbeck.
The winning spread design and photographs were in the 2015-2016 yearbook, which had a theme of "Interaction." Every year, the yearbook staff creates a theme to make the yearbook original.
"In the life of a middle school student, everyday we interact with others," said Katie Cranston, whose photo also won one of the Top Ten Best Middle School Photographs in the nation. "If it is through social media, or in person, we seem to have these never ending connections."
"RHMS has had a yearbook every year since the school opened," said Ryckman. "The yearbook program has gone through a lot of changes since its inception. It originated as a club and only four years ago became a class."
Since then, yearbook has won numerous other awards, including the All Colorado Award, Columbia Scholastic Press Association's Silver Crown Award, and the honor of being a NSPA Pacemaker Finalist. However, yearbook is cool not just because of its awards. It has been a unique experience for everyone who has joined.
"A yearbook is the treasure box that holds all of the events and memories of the school year, and it's important to make sure that, in 30 years, when someone looks back at it, they can bet that the treasure inside will be preserved," said Ashbeck.