Young ambassador raises money for diabetes research
January 1, 2015
/
/
Comments Off

on Young ambassador raises money for diabetes research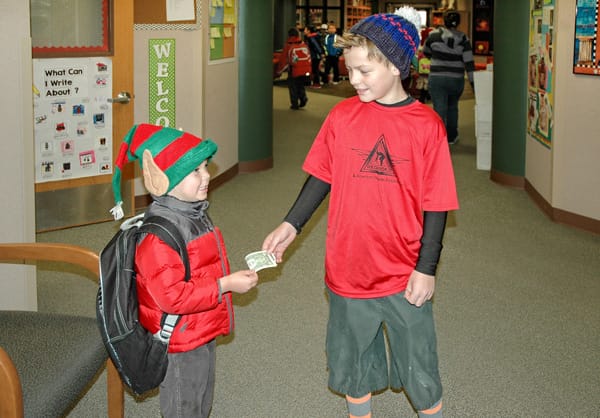 Kaden Jensen (right) accepts a donation for his "Hats on for Diabetes" fundraiser. Jensen planned and executed the fundraiser, which raised $800 for the American Diabetes Association.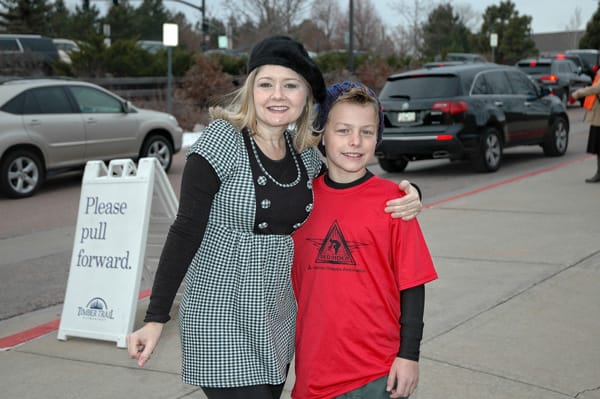 Timber Trail Elementary art teacher Wendy Wilson (left) and Kaden Jensen (right) don hats to wear at school. Students paid a dollar to wear a hat and funds raised were donated to the American Diabetes Association.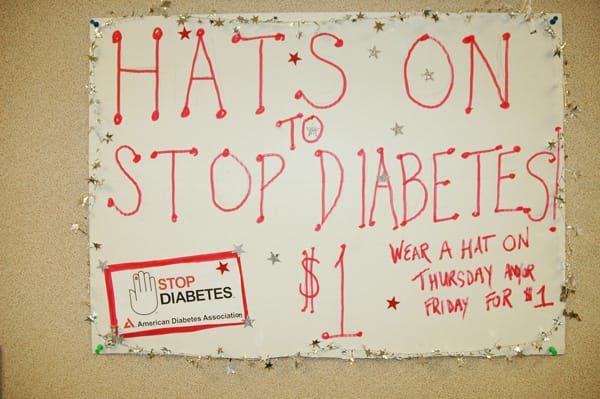 Advertising and promotion for the fundraiser were all in a day's work for Kaden Jensen, who serves as an ambassador to the American Diabetes Association.

Article and photos by Lisa Crockett
Kaden Jensen, a fifth grader at Timber Trail Elementary (TTE) was diagnosed with diabetes about two years ago. Since then, he's developed a passion for raising money for research on treatments for the disease and is currently serving as an American Diabetes Association (ADA) ambassador.
"Being an ambassador makes me feel good," said Kaden. "I really want a cure for diabetes and this is a way I can help find it."
Last month, with the cooperation of TTE Principal Michele Radke, Kaden sponsored a fundraiser at the school called "Hats on for Diabetes." For two days, Kaden's fellow students were allowed to pay one dollar for the privilege of wearing a hat all day at school. Students wore ten-gallon cowboy hats, tiaras, berets, and even elf hats with funny ears attached – all in the name of raising money for a good cause. Kaden planned, advertised, and executed the fundraiser as part of his ambassadorial duties.
At the end of the two-day fundraising period, Kaden made a donation of $800 to the American Diabetes Association.
In years past, Kaden and his family – mom Marla, dad Jon, brother Ty, and sister Brenna have participated in the "Tour de Cure" bike race, raising thousands of dollars for the ADA in the process. At the most recent "Tour," Kaden spoke about his personal experience with diabetes to a crowd of roughly 250 people.
"I think that being an ambassador has empowered him to show leadership," said Marla. "Kaden has also been able to educate others about type 1 diabetes, which is different from type 2. There are a lot of misconceptions. Some kids were afraid they might 'catch' diabetes from Kaden, and he's been able to educate others.