Step into fitness for 2015 on the challenge staircase
January 1, 2015
/
/
Comments Off

on Step into fitness for 2015 on the challenge staircase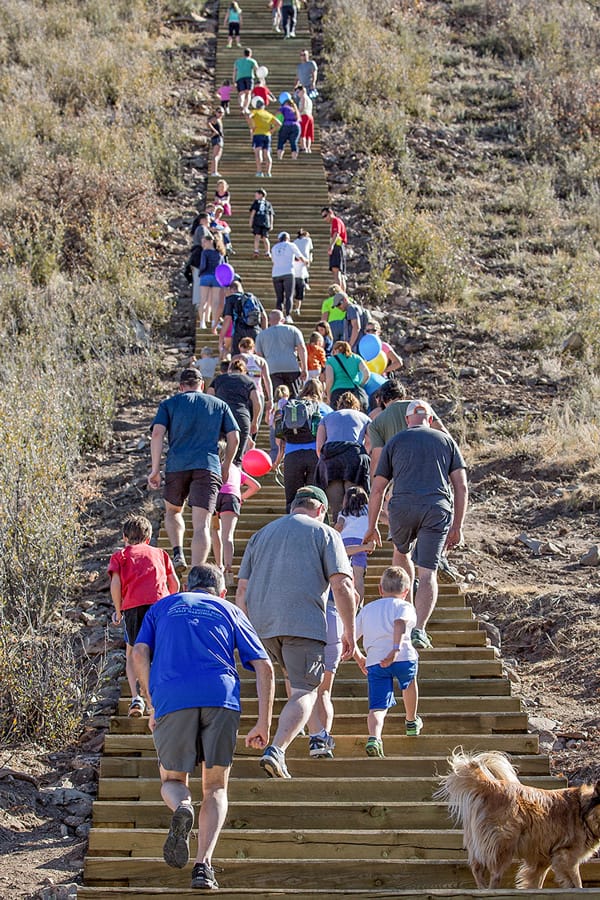 The challenge staircase has 200 steps and is one of many fitness features at the new Philip S. Miller Park in Castle Rock welcoming all ages and fitness levels.
By Elizabeth Wood West; photos courtesy of the Town of Castle Rock
If you are looking for a unique kick-start for your 2015 fitness program, try the challenge staircase at the new 230-acre Philip S. Miller Park, located at 1375 West Plum Creek Parkway, west of I-25 in Castle Rock.
The 200-step staircase is generating a lot of interest and a growing number of fans. Located at the south end of the park, staircase participants are rewarded for their arduous climb to the top with beautiful panoramic views of the area. The staircase's concept originated from input by the public and inspiration borrowed from the Manitou Springs Incline near Colorado Springs (see related story front page).
KerriAnne Mukhopadhyay, community relations specialist for the Town of Castle Rock said, "Before construction on Philip S. Miller Park began, we surveyed the public and really tried to research what people in the community were looking for. It truly provides a unique workout for residents and it's been hugely popular. During a recent weekend, Parks and Recreation employees counted 1,800 people on the staircase in one day."
Mukhopadhyay explained that the staircase was hand-built and is made of pressure-treated timbers and a product called "Stay Lock" to help prevent erosion. "The staircase gains 170 feet in elevation in just 550 feet, or 200 steps. The steep terrain didn't allow for any sort of equipment," she stated. "That meant crews started at the bottom step, but then had to carry the material and timbers up the staircase as they continued to build the other 199 steps. Crews were literally carrying buckets of material up and down the stairs dozens of times a day," Mukhopadhyay said.

The staircase is just one of the many fitness features at the new park. Other amenities include the 65,000-square-foot field house facility called MAC (Miller Athletic Complex); an indoor leisure/four-lane lap pool with a kiddie swim area, waterslide, and vortex whirlpool; a 3,000-square-foot indoor play structure; a 5,000-square-foot trampoline area; full-sized and half-sized synthetic turf athletic fields with drop-down batting cages; an outdoor lighted synthetic turf athletic field; more than six miles of natural surface hiking/biking trails; picnic pavilions; and an outdoor kid's adventure playground.
The new zip line feature is under construction and is expected to be completed by the end of January. There will be 10 zip line courses, a "head rush" tower, and a dual-race zip line for the more competitive enthusiasts. Future zip line improvements may include a self-paced, family-friendly aerial trekking course. For more information, visit www.crgov.com and search "Miller Athletic Complex."