Young bakers "rising" to meet a community need
May 1, 2015
/
/
Comments Off

on Young bakers "rising" to meet a community need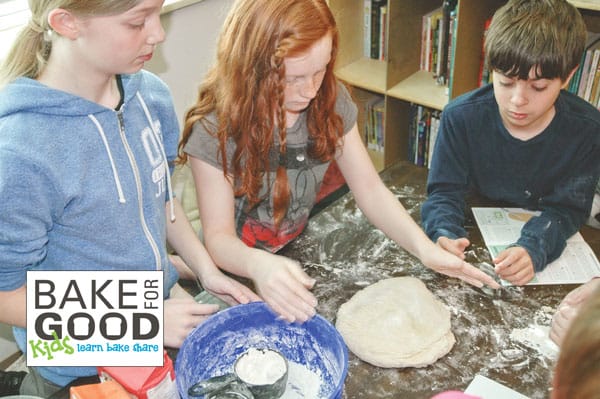 Math, chemistry and reading are all part of baking for students (left to right) Allie Oestman, Isabel Morgenthaler and Ben Pauka. Below, twelve-year-old Aiden Ingenthron spent time as a "dough boy," making bread with classmates to eat and to share.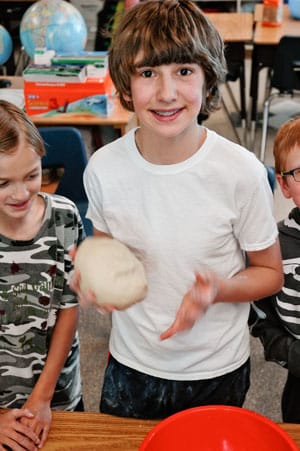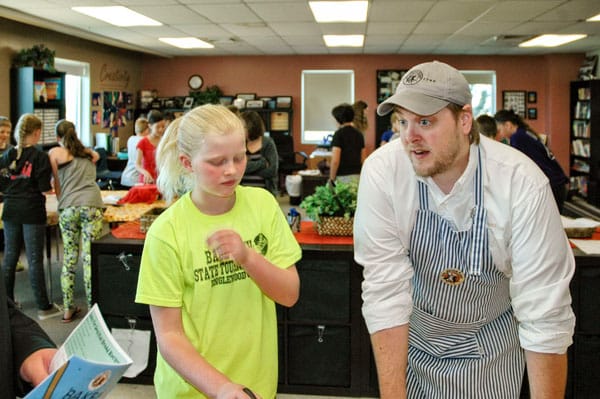 Nate Sandel, a baking instructor from King Arthur Flour Company, who taught the students the finer points of making a yeast dough.
Article and photos by Lisa Crockett
Baking bread from scratch is something of a lost art. King Arthur Flour, a national flour company based in Vermont, is doing its part to bring back the concept of a homemade loaf as something ordinary home cooks can do. As part of its "Bake for Good" campaign, aimed at marrying baking education with community service, King Arthur sent instructor Nate Sandel to teach students at DCS Montessori school (DCSM) in Castle Pines how to make a simple white-wheat loaf to enjoy and share.
"At King Arthur, we know that baking teaches students lots of skills like chemistry, math, reading and science," said Sandel. "I talk to the kids and give them instructions. We make it fun and have lots of participation from the audience. Our ultimate goal is to encourage baking at home."
After Sandel walked students through the process, students in grades four through eight worked in teams to produce two loaves apiece – one for the students to enjoy and one to share with the Douglas County Task Force. "An important part of this program is that the bread is shared with a school-chosen charity," said Sandel. "This initiative is part of our mission to reach out to the larger community and to empower students."
Sandel visited students early in the day to allow the necessary time for mixing, kneading, rising and baking. Some groups learned early in the process about the necessary elements to coax a yeast bread to life, some even starting over after a misstep, but most seemed comfortable with the simple recipe.
Leading the way for the Task Force donation was sixth grader Maggie Caron. Like all her fellow sixth graders, Caron selected a social issue to study in depth and then produce a capstone project. In Caron's case, the issue was homelessness, and delivering 30 loaves of fresh-baked bread to the Task Force fit right in with the hours of work she'd done as part of her project.
"Homelessness really touches my heart," said Caron. "I think the people who get the bread will really love it."
For more information about King Arthur Flour's "Bake For Good" program, visit www.kingarthurflour.com/bakeforgood/. To see the recipe used by students at DCSM, we have posted it at http://newspaper.castlepinesconnection.com/2015/may/booklet/index.html.