A vision for bringing eye care abroad realized
August 1, 2017
/
/
Comments Off

on A vision for bringing eye care abroad realized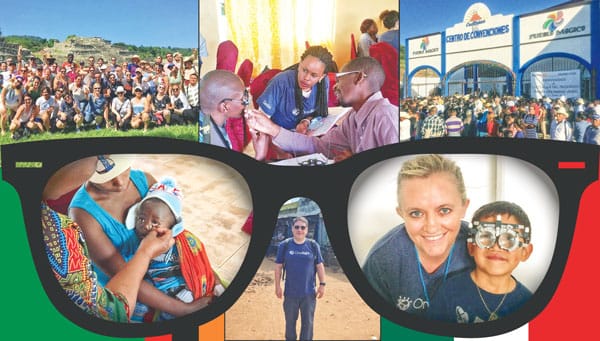 Dr. Jason Ortman and Dr. Jamie Anderson of Castle Pines Eye Care are giving back globally by partnering with the OneSight organization to help bring a temporary eye care clinic to Mexico and a sustainable eye care clinic to Zambia, Africa. Both doctors plan to offer their services for future international trips.

By Kathy Fallert; courtesy photos
Two local optometrists have partnered with OneSight, an independent nonprofit organization that provides access to quality vision care and glasses in underserved communities worldwide.
Castle Pines Eye Care Owner, Dr. Jason Ortman, traveled to Zambia, Africa to help train local ophthalmic nurses and optometrists to run the first four of an eventual 105 sustainable clinics to open in Zambia over the next five years. Also from Castle Pines Eye Care, Dr. Jamie Anderson assisted with a temporary eye clinic in Mexico in June and will be traveling to Peru for another temporary clinic later this month and to Zambia in November to help with a sustainable clinic there as well.
The goal of the sustainable clinics is to have volunteers train the local practitioners on how to use the new donated equipment and to help create an efficient exam process. Additionally, a central lab was opened in the capital city of Lusaka, Zambia to produce prescription eyewear, which in turn will be sent to the remote clinics. The first four clinics in Zambia provide access to eye care and eyewear to an estimated 600,000 Zambians who had no previous ability to get prescription eyewear.
Ortman's responsibilities in Zambia included assembling donated exam equipment and training all the staff how to operate each piece of equipment. The first four African clinics are located within Zambian district hospitals or clinics. They are one-room facilities and have equipment necessary to screen and treat for eye disease and provide a modest selection of glasses from which patients can choose. Examinations are provided at no charge and eyewear is provided at a very affordable cost for the local population.
Ortman explained, "This project is sustainable because as of right now each clinic is operating with local medical staff and the ability to produce and provide eyewear within their country. Patients do not need to wait for international teams to arrive to provide basic eye care and eyewear, as these can now be provided locally. This has been the most fulfilling aspect of this program," he said.
"I have been involved with various national and international non-governmental organizations providing eye care to those in need since I was in optometry school at The Ohio State University. This was my sixth international clinic since 1998," said Ortman, who hopes to participate in an international clinic at least once a year. "I sincerely enjoy teaching and helping other eye care professionals provide the care in their local regions. I am excited to return to Zambia!"
Anderson contributed comprehensive eye examinations and custom-made glasses to the temporary clinic in Mexico, and she intends to go on more than one trip every year. Anderson said, "I was given a list of locations that were in need of additional docs, so I said yes to the three I was available to join. I speak Spanish, so both Mexico and Peru were good choices for my abilities. Anderson said another reason she chose Africa was because it is a completely different design of a clinic and an opportunity to learn something new.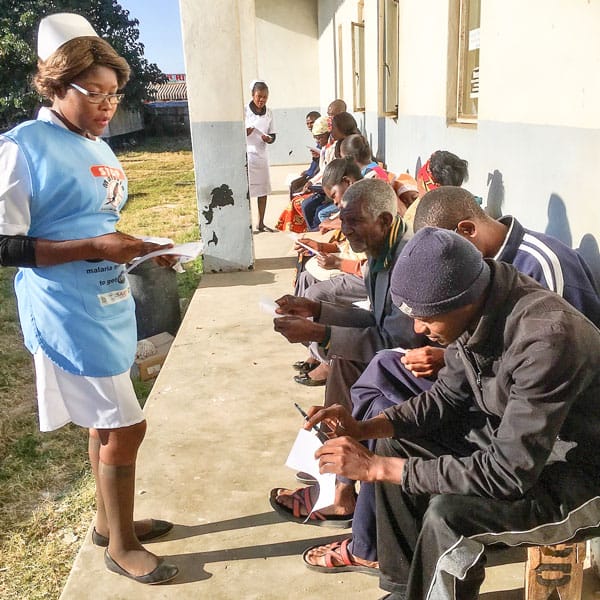 Dr. Jason Ortman's trip to Zambia, Africa in May helped get this sustainable clinic, which allows eyewear to be produced and provided within their own country rather than waiting for international teams to arrive, up and running.
"I absolutely love my job," said Anderson. "I get to care for both the health and the vision of all of my patients' eyes. The fact that I got to go to a disadvantaged, remote, mountain town in Mexico to do the same is such a fortunate opportunity. We saw many unhealthy eyes – diabetic retinopathy, corneal scarring, cataracts, hypertensive retinopathy and retinal detachments – and we saw all varieties of refractive errors – myopia, hyperopia, astigmatism and presbyopia. Most of our patients had never worn glasses before. The look of shock and joy, followed by tears and 'thank yous' was a privilege to witness. There aren't that many opportunities in life to truly change another human being's life in an instant. I feel very lucky to have been a part of a team who did this and look forward to doing it again in August and November."
For more information about the OneSight organization, visit www.onesight.org. To learn more about Castle Pines Eye Care, visit www.visionsource-castlerock.com/. Editor's note: Congratulations to Castle Pines Eye Care for being named one of the nation's best practices for leadership in optometry and delivery of exceptional care in 2017.