Household chemical roundup August 12
August 1, 2017
/
/
Comments Off

on Household chemical roundup August 12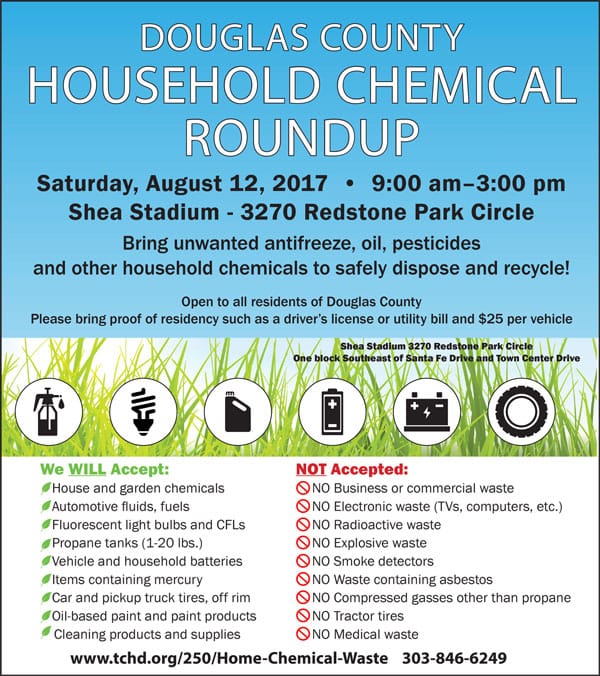 Information provided by Tri-County Health Department
On Saturday, August 12, the Tri-County Health Department will host its annual drive-through Douglas County Household Chemical Roundup in Highlands Ranch at Shea Stadium, 3270 Redstone Park Circle, from 9 a.m. to 3 p.m.
Many common products found in your home such as oil-based paint, mercury, gasoline, degreasers, cleaning compounds and garden chemicals may be hazardous to your family and the environment if used or disposed of improperly. It is important to read the product labels to safely store, use and dispose of chemicals. When these chemicals are not disposed of properly, they can be hazardous to sanitation workers, create problems in sewage treatment plants and landfills or pollute the water or air.
The roundup event is offered free of charge to Douglas County residents. However, participants will be asked for a $25 contribution to help offset the high costs of hazardous waste disposal through a private company, which can amount to more than $100 per household. Participants will be asked for a driver's license, water bill, utility bill or phone bill to verify residency.
No electronic waste will be accepted at this event. Bring your chemicals, including but not limited to pesticides, motor oil, antifreeze and paint. Last year, 4,271 households participated in the roundups, disposing and recycling more than 315 tons of household hazardous waste. These community events help dispose of chemical waste properly, prevent pollution and protect the people handling your garbage. For more information, visit www.tchd.org.
Volunteers unload the products, so participants do not even have to get out of their cars!