Acclaimed artist and author is a man for all seasons
February 1, 2016
/
/
Comments Off

on Acclaimed artist and author is a man for all seasons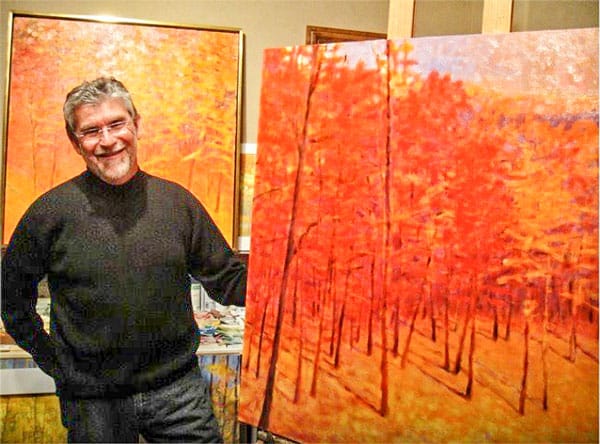 Ken Elliott proudly stands alongside an example of his oil paintings on canvas. "Oils are a wonderfully expressive medium. The color range is very large and you can have extremes of light and dark, all happening on the canvas like an unruly orchestra. It takes time and skill to make it all come together in a compelling and sophisticated way,"stated Elliott.

Article and photo by Nancy Koontz
Ken Elliott is a respected landscape artist, an award-winning author – and lives right here in Castle Pines. Ken is also an accomplished teacher, speaker, workshop leader, and all around brilliant artist specializing in a variety of art forms: oils, pastels, monotypes, etching and collage. His work is part of numerous private and corporate collections around the world, and some of his limited editions are reproduced as dramatic giclee' prints.
Ken's artwork has been exhibited locally at the Madden Museum, Denver International Airport, Lone Tree Arts Center and the Parker Arts Culture and Events (PACE) Center, as well as in galleries throughout the United States including New York, California, Texas, and New Mexico. If you see the new Will Smith/Alec Baldwin movie "Concussion," Ken's art piece "Into Fall" appears in one of the scenes.
Elliott recently authored the acclaimed book, "Manifesting 1-2-3" which provides people with the tools to take life in their own hands and create the desires of a lifetime using their own positive thoughts and techniques. Spiritual Leader Lynn Van Praagh (of the famous Van Praagh family) wrote in the forward of Ken's book: "Through life's journey, we come upon special people who greatly impact our lives. Ken Elliott is one of those extraordinary gifted individuals. His insight and vision contained in his book will change your life forever."
Ken is a gracious neighbor and a captivating storyteller. As far as life here in Castle Pines, Ken says: "I've been in Castle Pines for about 15 years. It's amazing with a strong sense of place, and I like the openness with its lack of fences and power lines. It is quiet and a joy to just BE in!"
For more information on Ken Elliott's work, visit www.kenelliott.com.