February 1, 2016
/
/
Comments Off

on DECA for the win!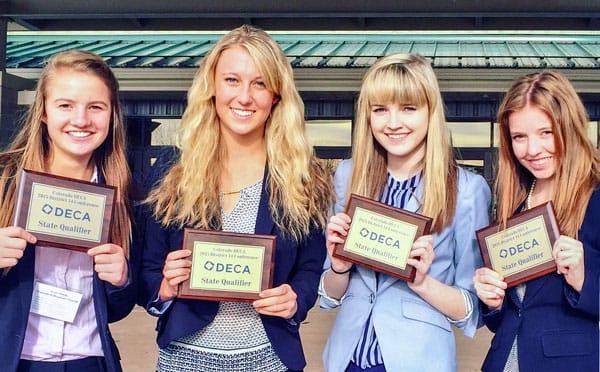 RCHS students Avery Nowak, Erin Daniel, Marissa Metcalf, and Katie Suhanyi (CP)after becoming state qualifiers at the DECA District competition on December 9 at the Douglas County Fairgrounds.


Article and photo by Maria Pangalos, RCHS intern writer
Number of members, 215,000; high school chapters, 3,500; advisors, 5,500 … This is the result of a nonprofit organization that has been running for nearly 70 years. Since 1946, more than 10 million participants' lives have been changed. What is this amazing program? DECA.
DECA is no longer an acronym for anything specific, but the purpose it serves is far more important than the name. DECA helps prepare future entrepreneurs in high school and/or college for fields such as marketing, finance, hospitality, and management on an international scale.
On December 9, Castle Pines resident, Rock Canyon High School (RCHS) student, and co-president of DECA Katie Suhanyi competed in DECA Districts. Alongside her fellow RCHS DECA members, Suhanyi competed for a place in the upcoming state competition. Districts were held at Douglas County Fairgrounds, and 19 of the 23 members who competed advanced to the state competition.
This year, the annual competition will be held February 21-23 at the Broadmoor Hotel in Colorado Springs. From state, students have the opportunity to go on to compete at nationals.
DECA may seem like an extremely difficult program to get involved in, however that is not the case. Getting in is the easy part, winning competitions is the uphill battle. The only requirements that the RCHS DECA club holds are current participation in one of the six High School of Business Program classes that RCHS offers to all of its students. To be part of DECA, you are required to take the third class in the program, which is the marketing class. That is the only requirement!
DECA offers monetary prizes and scholarship money as well, which proves that not only is it an amazing organization for students to get involved in and make contacts, it also offers an ample amount of graspable opportunities for the future.