Middle school boys win big bucks in return for hard work
February 1, 2016
/
/
Comments Off

on Middle school boys win big bucks in return for hard work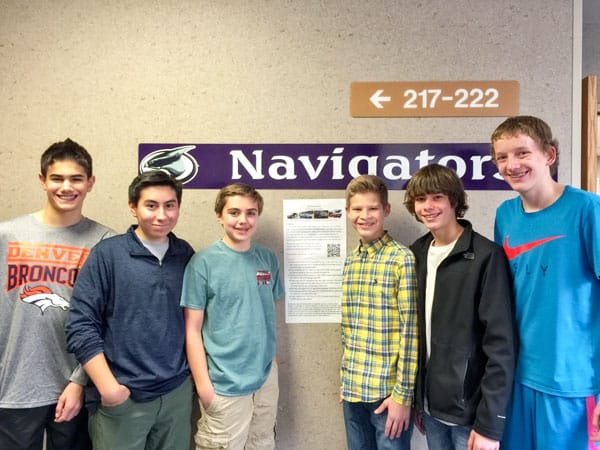 This amazing group of boys was one of only two teams to win an environmental challenge sponsored by Lexus. Left to right: Gianni Bonnici, Chase Martinez, Sam Murray, Owen Villas, Sam Isert, and David Blaeser.


Article and photo by Amy Shanahan
Six Rocky Heights Middle School (RHMS) boys with a monumental challenge to overcome led to an impressive result. Castle Pines eighth grade students Owen Villas, David Blaeser, Sam Murray, Chase Martinez, and Sam Isert worked as a team with their designated leader Gianni Bonnici to formulate a plan for the Lexus Eco Challenge.
The competition encouraged students to identify a problem in the environment and find a solution to the problem. This group of students formed a team called "The Antidote for Humanity" and set to work finding ways for our community to cut down on vehicle emissions in order to further protect the environment. "We really thought this was a big problem," explained Blaeser. "Emissions are growing rapidly because so many single people drive cars and we have a growing population."
The boys created a project in which they identified the current emissions of cars at RHMS, and then compared that to data based upon more kids carpooling and taking the bus to school. The team surveyed students, involved social media, created a video and much more as part of their campaign to bring awareness to their fellow students and prove that carpooling and bus riding greatly decrease emissions.
Under the guidance of science teacher Heather Haney, the team entered their project into the Lexus Eco Challenge. They competed with teams from 13 states in the western region of the United States. Much to the surprise of the students, they were one of only two middle school teams to be chosen to move on to a final challenge which will take place in March. The team was awarded a significant cash prize, so that each team member received $1,166.67. "We found out during fifth period that someone from RHMS had won," explained Murray. "At the end of day they made an all-school announcement that we had won and everyone was looking at us. We couldn't believe it!"
The students credit their incredible teamwork and the leadership of Bonnici as their reasons for winning. Martinez remarked, "I think the reason we won was because it was a team process; we all collaborated and worked well together." Isert agreed. "Gianni was the driving force behind the project and a large part of our success is due to him and the way we all worked together."
The team will now work to improve their project further in order to hopefully win the grand prize in March. However, right now they are enjoying the rewards of their hard work and their teacher could not be more proud of her students. "I was totally impressed with the amount of work they put into it," stated Haney. "They went above and beyond what the expectations were for this project."
To view the team's website and twitter account, visit www.RockyHeights.org.