American Academy exploring technology
November 1, 2012
/
/
Comments Off

on American Academy exploring technology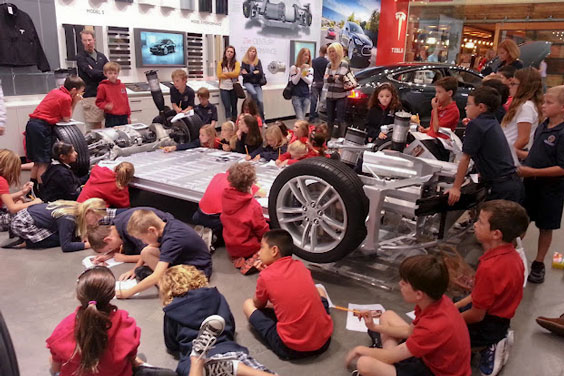 American Academy fourth graders got a closer look at alternative energy technology and the Tesla coil motor at the Tesla dealership this past September.
Contributed by American Academy Charter School
Amazing science can happen in the most unassuming places; like the mall, for instance. As a school with a strong science, technology, engineering and math emphasis (STEM), American Academy (AA) doesn't often find ways to work a trip to the mall into the curriculum. But when it comes to seeing great innovation up close and personal, all bets were off and a trip to Park Meadows Mall was on!
During the last week of September, AA fourth graders took a quick trip to the local Tesla dealership at Park Meadows to get a close look at the Tesla car and coil motor on display, and learn about how these special cars work. The students were in the middle of an energy and electromagnetism unit in science and these innovative cars provided an excellent opportunity to get a first-hand look at how we might use alternative sources of energy in our future. The energy and electromagnetism unit is part of AA's science program.
Sometimes, however, you need to go to Mars for a little technology fun, or maybe even medieval England, so that is what these fourth graders were up to their necks in, during their most recent STEM Discovery Week.
In addition to a daily science curriculum, all AA students have the opportunity to explore careers in STEM at least once per trimester. This fall, fourth graders studied robotics and conquered several creative challenges.
Using NXT robots and LEGO Mindstorms software, the students built and programmed robots with sensors. By designing and controlling the behavior of their robots, they then created solutions to two different challenges: exploring Mars or finding King Arthur's sword in the stone. The fourth graders exhibited their robotic successes at Robofest on Saturday, October 6, in the AA gym.
For more information about AA and its STEM curriculum, visit the website at www.americanacademyk8.org.