Anniversary recipe retrospective
February 1, 2019
/
/
Comments Off

on Anniversary recipe retrospective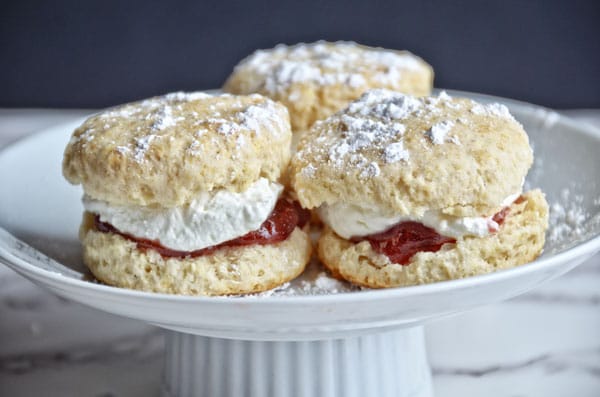 Easy Cream Biscuits, May 2017, page 29.

Article and photo by Lisa Crockett
Most of life's big events have food associated with them – cake in particular features heavily in nearly all of life's milestones. A perfect slice of chocolate birthday cake evokes memories of childhood. The top tier of a wedding cake, tucked carefully at the back of the freezer, makes for a sweet (if perhaps mildly freezer burned) celebration of a first wedding anniversary. Employment anniversaries mean cake for everyone in the break room, and really, who doesn't enjoy a little cake in the midst of an otherwise hectic workday? This month's recipe (page 25) features a chocolate lava cake as a tribute to The Connection's first decade.
But there's more to life than cake, and an anniversary can be marked with almost anything good to eat. Here at The Connection, we sometimes feature recipes that our readers simply love, and many of those selections are perfect for commemorating a decade in print, or whatever else you might be looking to celebrate. Below you'll find descriptions of these goodies, along with links to The Connection website for the original articles for a day of celebrating – enjoy any of these goodies for breakfast, lunch, or dinner.
To find any of the recipes described below, visit www.castlepinesconnection.com and click on Recipe Exchange in the Special Segments area of the home page.
Cranberry nut granola. This breakfast recipe, submitted by Connection reader Jo Ann Schomerus, was a smash hit with readers. A mixture of pumpkin seeds, rolled oats and dried fruit, sweetened with fruit juice, tastes amazing. It's also a thoughtful gift. February 2014, page 15.

Pink Lemonade Mousse. This dessert looked sophisticated and tasted amazing. Readers – even novice cooks – found this one super simple to make. April 2014, page 26.

Summer Scones. Don't let the name fool you – these scones are good at any time of the year, and they come together quickly and easily. Readers found these easy to make and impressive to serve. Whip up a batch of these and pair them with a spot of tea to make any brunch instantly more sophisticated. August 2014, page 29.

Good Water. If you want to propose a toast, but you're looking for something non-alcoholic, this might just be what you're looking for. Readers love how refreshing and tasty this unusual concoction is, and that it can be made by the gallon to quench the thirst of a large crowd. June 2015, page 29.
Lasagna Soup. Soup may seem like a strange food to suggest for a celebration, but this one is a crowd pleaser. Readers like that it's simultaneously hearty and beautiful, and guests can add just the right amount of cheese (or not). December 2015, page 30.
Easy Cream Biscuits. Layer these beauties with whipped cream and strawberry jam for a festive snack. Readers love how simple these are to make, and how Pinterest-worthy they look on the table. May 2017, page 29.
Superb Souffle. This is a showstopper that seems difficult, but really takes just a little patience. Readers love the decadent taste and texture of this beauty. April 2018, page 25.