Automotive Fort Knox and gallery to open in Colorado
May 1, 2014
/
/
Comments Off

on Automotive Fort Knox and gallery to open in Colorado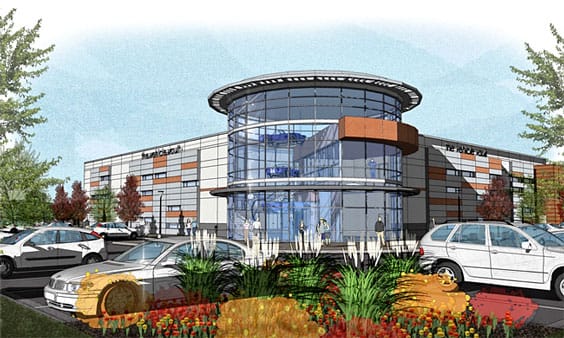 Vehicle Vault is a premier auto gallery and elite collector community for car enthusiasts. It is located east of I-25 on Lincoln Avenue in Parker and
is expected to open its doors in the next few months.
By Joe Gschwendtner;
photo and graphic rendering courtesy of Vehicle Vault
Welcome to Vehicle Vault, the premier auto gallery and elite collector community just five miles east of I-25 off Lincoln Avenue in Parker.
With nothing else like this in the area, owners Erin and Dan Dilley recognize that car enthusiasts such as themselves are a growing population and see great potential in bringing a gallery, a "village," and also events for car lovers and collectors to the neighborhood.
The is not your average car museum. It promises to be a unique and beautiful building, housing a fabulous collection of rare and exotic automobiles from all over the world for members, guests, and the general public to see up close. Comprising 35,000 square feet of exhibition space, the gallery will present a dynamic collection of vintage cars. Like any gallery, exhibits will rotate with new themes and with augmentation by other classics as they become available. To capture and infuse the passion, the gallery will also be enhanced with fine art and include a member clubhouse, a venue that will become a centralizing collector force and yield a camaraderie all its own.
Whether it's owning a hot rod, exotic, or classic auto, it is likely you know one or several of the breed already, perhaps as neighbors in Castle Pines. The well-attended "Hot Rods in the Village" annual car show is evidence they are among us. They buy, build, restore, or preserve cars. Call them aficionados, call them obsessed, but they treat their vehicles with TLC.
There is a growing demand for safe housing and show space for these investments. Yes, investments. So hot are classic cars, they are allegedly outpacing music, art, and wine in value appreciation. In fact, some wealth managers are said now to be recommending that clients round out portfolios with four-wheeled "gold."
At full build-out, will have as many as 120 units to safeguard and preserve these automotive treasures. The vaults are basically car condominiums built to suit. You purchase space and fashion it as you would any other tenant build-out arrangement. Owners will likely share a passion for exotic cars, and if the Dilleys are but remotely right, the village will become a gathering place – the country club for car enthusiasts.
Former Castle Pines Village resident Tom Kahn is both a development partner and general contractor for the Dilleys. He sees the excitement the project is creating in the south metro area. Kahn reports that, "From the minute we started planning and designing this immense project, I knew we had something very special for the growing community of collectible car owners."
The concept doesn't end there. Projected at 190,000 square feet of gallery and storage space, the Vehicle Vault is anticipated to become the motorsport collectors' Mecca and host to dozens of local and regional auto shows and car club events every year. The gallery facilities will be able to seat 250 for dinner or accommodate 1,000 for cocktails.
The Vehicle Vault has potential to add more to the allure of our county and state and to be a catalyst to a whole new generation of car collectors and enthusiasts.
To learn more, visit VehicleVaultCo.com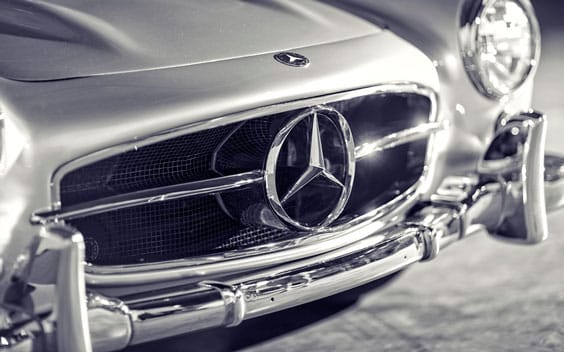 Classic autos like this 1954 Mercedes 300SL make perfect
features for the Gallery at Vehicle Vault.