Bolder Boulder 10K draws in large crowds from all walks of life
July 1, 2012
/
/
Comments Off

on Bolder Boulder 10K draws in large crowds from all walks of life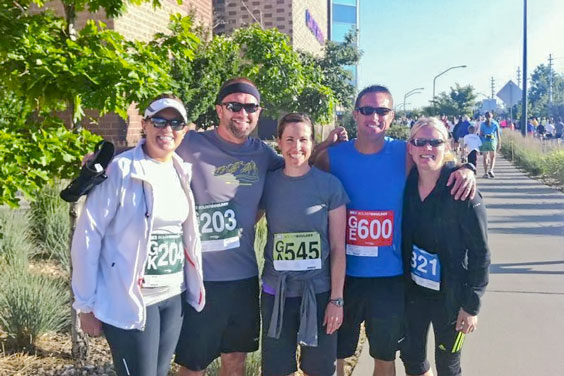 A quick photo of friends before the 2012 Bolder Boulder 10K begins from left to right), Tanya McNellis, Corey McNellis, Melissa Sebold, Scott Davis and Castle Pines Connection staff writer Liane Davis.
By Liane Marette Davis
If you don't have plans for Memorial Day next year, mark your calendar now to participate in the Bolder Boulder 10K. It has been an annual event since 1979. With more than 50,000 runners and walkers, the number of participants makes it the largest in the United States and fifth largest road race in the world (since all entrants are timed.)
It is not your average 10K; along the course there is plenty of entertainment. You will find a variety of bands at certain markers, dancers, cheerleaders, and some friendly volunteers and neighbors offering a turn on their slip and slide, marshmallows, cotton candy, a light sprinkle of their hose, a swig of beer and a piece or two of bacon, yes, bacon. And some runners and walkers like to spice it up by donning a costume of sorts. There were a few colorful crayons, ladies dressed as wine grapes with some wine to boot, the Chick-fil-A cows, and other colorful characters.
As you are heading through the last stretch into Folsom Field you can start to hear the yells of the supporters along the course shouting encouragements as you pass them by. Upon entering Folsom Field the energy that fills the stadium is infectious. You can't help but have a huge smile looking at all the people and hearing all the cheers.
The fun is just beginning as you pass through the finish line. Pick up your bag filled with goodies, take a flag, grab a beer (or water) and enjoy the cheering with the remaining participants surrounded by the beautiful scenery of Boulder, Folsom Field, and the magical energy that is flowing through the air.
You can also head to the RaceDayEXPO that sits outside the stadium, which hosts several vendors waiting for you to enjoy some of their samples of food, beverages, clothing and memorabilia for purchase. To conclude the annual event (worth the wait), a wonderful tribute that includes sky divers, a hair raising fly over and a ceremonial event honoring our local military heroes.
Whether you want to walk it, run it, or dance it, you just need to experience it. For more information on the Bolder Boulder, visit www.bolderboulder.com and for training information, visit www.bold-running.com.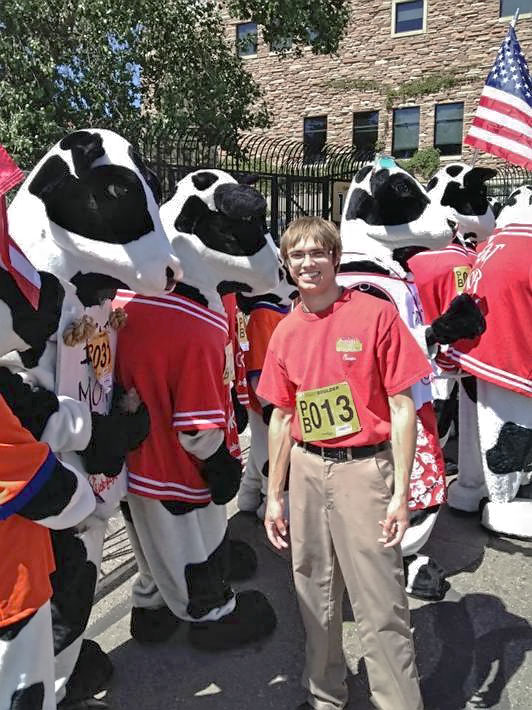 Castle Pines Connection staff writer Chris Bonham hanging out with the Chick-fil-A cows (photo taken by Joe Weber).