A taste of … elev. 5900 Kitchen and Bar in Parker
July 1, 2012
/
/
Comments Off

on A taste of … elev. 5900 Kitchen and Bar in Parker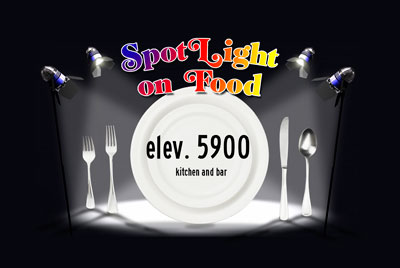 Article and photo by Liane Marette Davis
With more than 18 years of combined superior culinary experience and service, chef/owner Richard Esper and executive chef/partner Alec Erickson teamed together to bring you a place where the creativity in their cuisine and commitment to your experience in dining shine. Elevation 5900 is located on Mainstreet in historic downtown Parker, giving you a taste of times past. The history is found within their décor, design, electric atmosphere and eclectic cuisine.
Esper's and Erickson's vision of quality cuisine with only the freshest of ingredients and modern interpretation of your favorite classic comfort food is reflected in the menu. Elevation 5900 has the perfect amount of delectable diversity to "elevate your palate" and clever categories that will help in your tasty selection. When possible, they feature local and regional ingredients from the Parker Farmer's Market.
Hot: The Carnitas stew ($6.50) with braised pork shoulder with roasted chile. Cold: Two favorites among the regulars, the baby spinach salad ($9.50) unified with gorgonzola, red onion, berries candied pecans and splash of vanilla vinaigrette, or the panzanella salad ($9.50), a mix of arugula, crouton, cucumber, tomato, red wine and vinaigrette). Handheld: the "adult grilled cheese" ($8.50) a perfect blend of goat cheese, mozzarella and provolone on dark rye. Pasta and Risotto: the penne aqua pazza ($9.50) penne pasta combined with roasted cherry tomatoes, shrimp and white wine. Add the delicious garlic rosemary fries to any dish or the apple jicama slaw (try some between the delicious cheeses in your grilled cheese). Your "young ones" can also feast on fried chicken tenders, orecchiette and cheese, cheese quesadilla, or classic grilled cheese.
In addition to the lunch menu, the dinner menu includes three more categories; land, water and air, which have tasty items to choose from each. Land: The bacon wrapped meatloaf with their hearty cannellini cassoulet ($16). Water: Their cioppino ($18.50) with mussels and shrimp in a white wine tomato broth. Air: Quail ($16) decked with hominy, pea succotash and chili espresso glaze.
Join them for social hour Monday – Saturday from 4:30 p.m. – 6:30 p.m. Sip on their signature cocktails, beer and wine while nibbling on bar snacks. They are now offering a three-course tasting menu for two, which includes a complimentary wine flight ($59).
Elevation 5900 Kitchen and Bar is located at 19751 East Mainstreet, Parker. Hours of operation: Monday through Saturday, 11 a.m. – 10 p.m. and Sunday for brunch from 10 a.m. – 3 p.m. For more information, please call 720-420 -0651 or visit www.elev5900.com.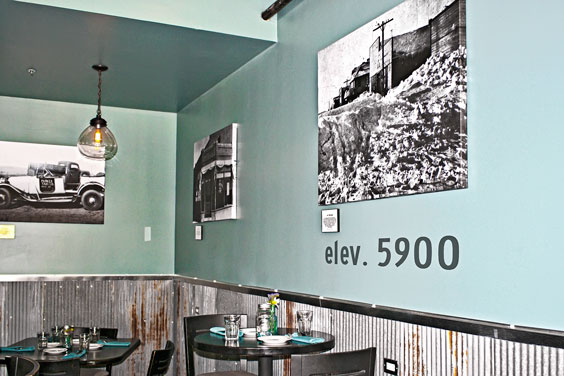 A glimpse of Elev. 5900's sleek interior and historical photos provided by Parker Historical Society.