BRE minds their Ps and Qs
March 1, 2018
/
/
Comments Off

on BRE minds their Ps and Qs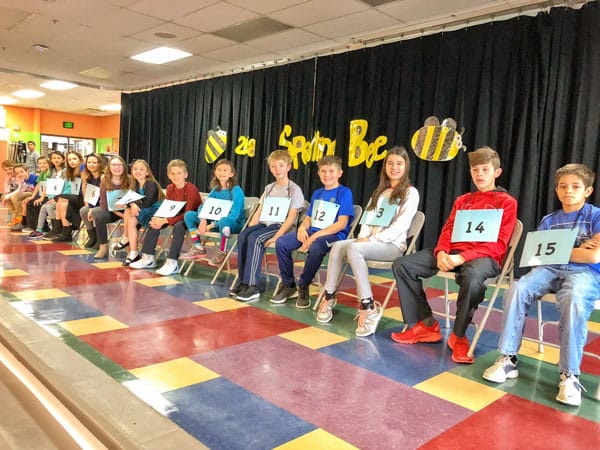 BRE's top 15 spellers (pictured from left to right) Palmer W., Joey S., Colton R., Lana C., Katherine S., Mia L., Lila O., winner Emily R., Simon H., Riley C., Kyle D., runner up Gavin R., Milena A., Kasen L. and Isaac H. battled it out in the school's gym on January 26.
Article and photos by Kathy Fallert; photo courtesy of Crystal Ruegge
Fifteen Buffalo Ridge Elementary (BRE) top fourth- and fifth-grade spellers came together on Friday, January 26 to battle it out to the finish as the school and parents looked on. The rounds varied between spelling and vocabulary with a final solo round being necessary to take the title.
Fifth grade teacher Dana Sedersten held several weeks of before and after school practices for the 15 students to polish up their spelling knowledge and learn the rules of the bee.
At the final spelling bee, the words started out on the less difficult side as kids worked their way through the various rounds. In the end, there were two spellers left, fourth-grader Emily Ruegge and fifth-grader Gavin Ross. There were a slew of nail-biting, tie-breaker rounds as the two kept spelling on with some very difficult words such as rhododendron and monomania. Finally, Ruegge prevailed and took the school championship.
Ruegge reflected on her efforts with, "I studied a lot. But I still can't spell rhododendron correctly!" Ruegge represented BRE at the district championship on February 10 at Castle Rock Middle School. Mom, Crystal Ruegge, said, "Emily didn't advance any further. I think the group had both elementary and middle school together, but we were pretty amazed she won as a fourth-grader!"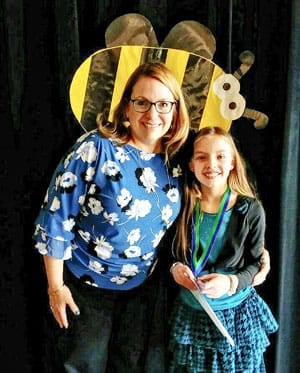 Fourth-grade spelling bee winner Emily Ruegge pictured with her teacher who coached the kids, Dana Sedersten.
BRE fifth-grader Gavin Ross went all the way to a multitude of tie-breakers with fourth-grader Emily Ruegge before Ruegge was named the school champ.