Buffalo Ridge field day goes for the gold
November 1, 2016
/
/
Comments Off

on Buffalo Ridge field day goes for the gold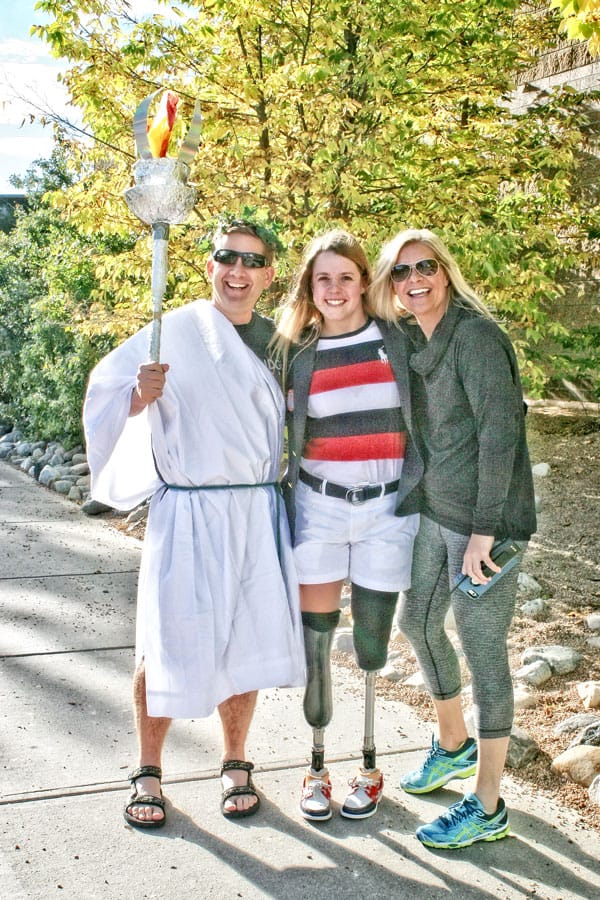 BRE hosted a fun-filled, Olympic-themed field day on September 22. Principal John Veit (left) and Assistant Principal Jen Murdock (right) welcomed BRE alumnus and Paralympian Brickelle Bro (middle), who opened the ceremonies with some words of inspiration for the students.
Article and photos by Kathy Fallert
Buffalo Ridge Elementary (BRE) hosted an Olympic-themed field day for their students on Thursday, September 22. The kids received a surprise visit from BRE alumnus Brickelle Bro who was passing through her hometown for four days. Bro had just returned from swimming at the Paralympics in Rio de Janeiro and was soon to be starting back to school at Stanford University in California.
Olympic music was played over the PA system as classes came onto the field with each class representing a different country. Bro addressed the kids (grades K – 2 in the a.m. and grades 3 – 5 in the p.m.) and told a story about perseverance. Bro was once swimming in the mile event at a swim meet when her swim cap fell off. In spite of being completely flustered and having a lot of very heavy, wet hair in her face, she did not stop. She kept swimming. Bro remarked, "I ended that race breaking the American record in the mile. So remember; never give up!"
Kids enjoyed a lot of fun events including some with Olympic themes such as hurdles and javelin throwing. Some popular field day traditions were also covered such as potato sack races and water balloon tossing.
BRE Principal John Veit demonstrated his good sportsmanship, showing up in a toga and carrying the "Olympic torch." Veit said, "It was great to have former Buffalo Ridge student, Brickelle, with us for our field day. She was able to share with the students how she has persevered in her swimming as well as in her life. The students loved seeing her and getting to talk with her throughout the day. She was even able to see some of her former teachers that are still part of our Buffalo Ridge staff. Brickelle is an inspiration to our students as well as anyone else that comes around her. We are so proud of her and her accomplishments."