BRE students huff and puff their way to school
November 1, 2016
/
/
Comments Off

on BRE students huff and puff their way to school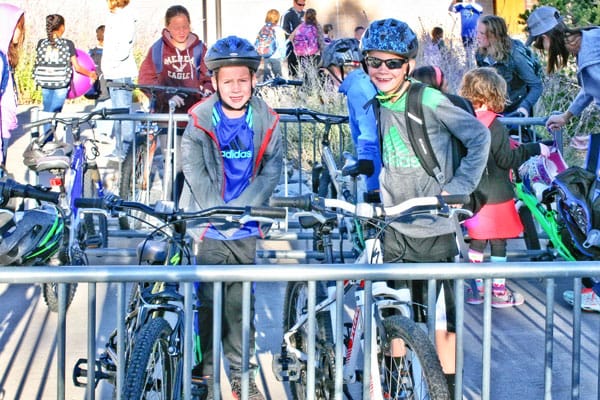 It was a cold day, but BRE students bundled up and got it done as they rode their way to school on October 5.

Article and photos by Kathy Fallert
It was a cold and blustery day on Wednesday, October 5, but that didn't stop Buffalo Ridge Elementary (BRE) students from celebrating Walk/Bike to School Day. A visit from Castle Pine's own Mayor Jeff Huff added to the festivities as Huff greeted students on their way to school and handed out pencils.
Mayors have been an important part of many of the 50,000 Walk to School Day events held since it began in 1997 when two mayors, Chicago Mayor Daley and Los Angeles Mayor Riordan, led the first events. Inviting Mayor Huff to BRE helped recognize the role of mayors in these events over the years. Huff commented, "The ability of people to safely walk and bicycle is a vital part of what makes communities thrive. I encourage parents and teachers to promote an active lifestyle for our children. Our efforts to promote safe walking and bicycling will also reduce traffic congestion around our neighborhood schools."
Over the past 20 years, Walk/Bike to School Day has gone from a one-day event to a long-term effort to give children more opportunities for physical activity and make everyone feel a little more connected. In addition, Safe Routes to School Programs were established in every state with the goal of building infrastructure to make the walking and biking trip to school a safe one.
"Over the past few years, Castle Pines has invested in improved crosswalks, traffic signals and bike lanes to make our streets more friendly for walking and bicycling," Huff continued. "We are committed to continue these improvements next year with new sidewalk connections and bike lane improvements, especially along the western stretch of Castle Pines Parkway. I'd like to thank Buffalo Ridge Principal John Veit, Assistant Principal Jen Murdock and the entire BRE community for participating in this important event in Castle Pines."

Pictured left: Principal John Veit (left), Mayor Jeff Huff (center) and Assistant Principal Jen Murdock (right) welcomed walking and biking students to school on October 5 in honor of Walk/Bike to School Day.