Castle Crocs Wrap Up the Season
August 1, 2008
/
/
Comments Off

on Castle Crocs Wrap Up the Season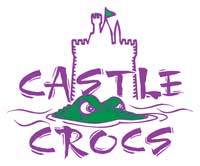 by Anthonette Klinkerman, (photos courtesy of Renita Mundwiller)
Of the three meets the Castle Crocs swam in this season, two were gobbled up as victories. The meets against Canterbury and Lifetime Fitness in Parker were wracked up as wins, but once again a victory against the Village remained illusive.
Yet, it was not all about winning team events. "Swimming is an individual event," said Carin Kirkegaard. "It's all about your personal best."
The 163 swimmers on the Crocs team this year all achieved personal bests, and were rewarded for their efforts by DazBog Coffee with a free Chiller. The "Cool Croc Award" was given to each swimmer who improved on their personal time for certain events. Little Italy, another Castle Pines North establishment, provided concessions for the meets.
"This was a great season," said Kirkegaard. She explained that coach Kevin Millerick practiced immersion swimming methods with the kids, which meant all swimmers became well versed in proper techniques. She went on to say that Millerick was not the type of coach who sat down to drink his coffee and let the kids continue making the same incorrect movements. Instead, he broke down strokes piece by piece to be certain that each swimmer was executing the motions properly. Millerick's wife, Sarah, also coached.
The season concluded with an All-Star meet. Those who were able to participate were swimmers from all over the league who bested a standard time in each division for each event.
For a complete list of all of the swimmers, plus more photos, please visit the website at www.mhsl.org.