August 1, 2008
/
/
Comments Off

on Chamber Member News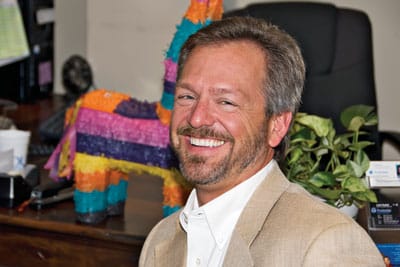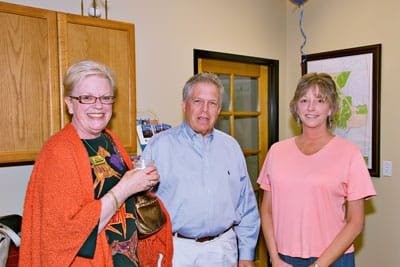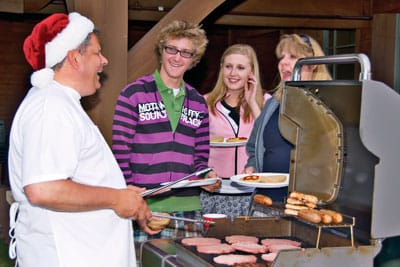 Members & Margaritas

Business in the Pines members joined for the second annual Members and Margaritas bash on Thursday, May 22. Prudential Preferred Real Estate sponsored the event to help members get to know each other better, network, and have fun. Pictured above, Dan Cook. Pictured below (from the left): Ginny Wainright, Asa Cole and Sharon Kollmar. (photos by Tim Gamble)
The Ridge at Castle Pines North hosted a "Christmas in July" party for its employees, which included an 18-hole golf tournament, a barbecue, free t-shirts, and prizes raffled by General Manager Mike Henritze (pictured above in the Santa hat). "This is our opportunity to reward our employees for all their hard work," said Henritze. "Only a few of the more than 100 Ridge employees work through the winter when the course is closed." (photo by Tim Gamble)
GOT PRODUCE?
Don't miss this year's produce at Market in the Pines right here in CPN. The two remaining markets of the season are Saturday, August 9 and Saturday, September 13, from 8 a.m. to 1 p.m. at the Village Square Shopping Center. (photo by Tim Gamble)

Catering Now Offered by Entrée Vous
by Entrée Vous/Anthonette Klinkerman
Entree Vous is the fastest growing meal solution company in the United States. Now answer this question: When was the last time lunch at a business meeting included Chicken Piccata, Creamy Orzo, or mixed Berry Crumble?
Entrée Vous is pleased to offer new catering services for companies and businesses.
Signature hot entrees, gourmet sandwiches on Artisan breads, salads, sides, and freshly-baked desserts can all be delivered to business meetings or working lunches.
And no need to worry about whether the staff room dishwasher is clean or dirty; Entrée Vous will include everything needed, from napkins to utensils and plates.
Please visit the website at www.entreevous.com to learn more details.

New Doctor Joins Colorado Kids Pediatric Dentistry
Dr. Lisa Fox is excited to announce that Dr. Patrick Wilson will be joining her practice in both the Castle Pines North and Highlands Ranch locations. Wilson has an extensive background in dentistry which includes a two year pediatric residency at The Children's Hospital in Denver, Colorado. He will be accepting new patients on July 15, 2008 and is excited to be joining a practice that is so well respected in the community.
Wilson is a 2002 graduate of Tufts University School of Dental Medicine. He spent four years serving his country in the United States Army as a general dentist before enrolling as a pediatric resident at The Children's Hospital in Denver Colorado.
For additional information on Colorado Kids Pediatric Dentistry, call 303-791-4400 or visit the website at www.kistoothdoc.com.

Kiwanis Club Changes Structure
by the Kiwanis Club and Anthonette Klinkerman
There is a whole lot of change going on, including with the Kiwanis Club of Castle Pines North (CPN). The previous frequency of meetings and the structure of the club was in need of a tune-up. "Service and social" goals have become the new focus, and members will now meet less often and be more involved in serving the community.
The decision came from Kiwanis International, the largest service organization in the world. Recently, a change of rules was put in to place to allow clubs to better arrange themselves in accordance with the needs of its members.
The Kiwanis Club of CPN will now meet at La Dolce Vita restaurant for lunch every second and fourth Tuesday of the month. In this stream-lined fashion, the efforts of the organization, including planning service projects and offering social and networking opportunities, can continue smoothly.
Daniel Cook, Kiwanis Club president, stated, "This structure will make it possible for anyone to be a Kiwanis member… there is room for all who want to be involved in projects that benefit kids."
Interested prospective members are invited to an information night August 5 at Jimmy's Steakhouse, located in Castle Pines Village. Please contact Janet Moore at 303-790-4413, or online at www.cpkiwanis.org.

Little Italy Provides More Than a Good Pie
by Little Italy and Anthonette Klinkerman
If the need arises for a fundraising event, Little Italy Pizzeria can help. Whether it involves a choir group, a baseball team, a Foundation, a cheerleading squad, or a church, turn to Little Italy. Every Monday night is designated "Fundraiser Night." A group signs up for a Monday night, contacts friends and family, and has them eat in, pick up, or have delivery from Little Italy that night. The organization will receive 20 percent of all sales from 5 p.m. to 9 p.m. that specific night. (There must be a minimum of $500 in sales.) Call Lisa Towne at 303-941-6630 or 303-663-2111 for more information, or via email at Contact by email .
Business meetings can become routine. Try something new at Little Italy. Early morning and mid-afternoon business meetings can be arranged for a minimum of ten people. For $5 per person, groups can enjoy coffee, tea, and cinnamon rolls. For $7 per person, breakfast burritos, cinnamon rolls, coffee, tea and juice will be available. Little Italy can provide space for up to 50 people.
Morning meeting times are from 6:30 a.m. to 10:30 a.m. Afternoon meeting times are from 2:30 p.m. to 4:30 p.m. Please call Lisa Towne at least 48 hours in advance at 303-941-6630 or 303-663-2111.


Expose Yourself Seminar Series
Submitted by Candis Kloverstrom/edited by Anthonette Klinkerman
Business owners, get noticed, be heard, and obtain new clients with invaluable information from Candis Kloverstrom, Communication Coach.
Stiff competition has created the need for messages to speak directly to the needs of your prospective clients.
Communication coach Candis Kloverstrom is presenting a seminar series, Expose Yourself, which will teach business owners how to get noticed, be heard, and obtain new clients.
In these seminars you will define how your talent brands you unique; learn how to captivate your prospective clients with authentic messages that define what you do best; and establish a strong foundation, giving your clients confidence in your abilities.
Seminar dates and titles include:
Friday, July 25—You are Your Best Asset,
Friday, September 19—Creating a Strong Foundation,
Friday, October 17—Create Powerful Messages that Captivate Potential Clients,
Friday, November 14—Marketing Smart in Today's Generational Mix.
You will not want to miss these four two-hour seminars held at the Castle Rock Chamber of Commerce from 9:30 a.m. until 11:30 a.m. All four session are $150 and individual seminars are $59 each. For more information or to register, call Candis Kloverstrom at 303-688-0649, email Contact by email , or visit her website at www.essentialcommunique.com.

Second Wind Fund Benefits From Kiwanis Club Members
by Anthonette Klinkerman
Kiwanis Club members in Castle Pines North (CPN) are passionate about their efforts to help contribute to the Second Wind Fund, the teen suicide prevention program.
Dr. Brandon Linn is an orthodontist with a mission. Besides straightening teeth for beautiful smiles from Castle Pines North to Highlands Ranch and Parker with his five offices, Linn wants to bring forward the serious issue of teen suicide.
"No one likes to talk about it, but it needs to be addressed as you don't hear about this issue often enough in the media," he stated.
As a member of the Kiwanis Club of CPN since 2005, his heart has become tuned to service acts. An avid runner, Linn had recently taken note of the Leukemia and Lymphoma Society efforts toward culturing teams to run marathons and raise funds in their "Team in Training" program.
With a little twist, Linn is applying the same idea to his practices in order to raise money for the Second Wind Foundation. Patients of Linn, or his partner Dr. Bumgarner, can opt to write a check directly to Second Wind and have the amount deducted from their bills. The offices will then match contributions up to $3000 to help fund the program.
"As long as it takes to reach our goal, we'll keep doing this," Linn said.
Visit the website for more information at www.bumgarnerandlinnorthodontics.com or call 303-688-9617.