Castle Pines Village boy tackles 14er before kindergarten
August 29, 2014
/
/
Comments Off

on Castle Pines Village boy tackles 14er before kindergarten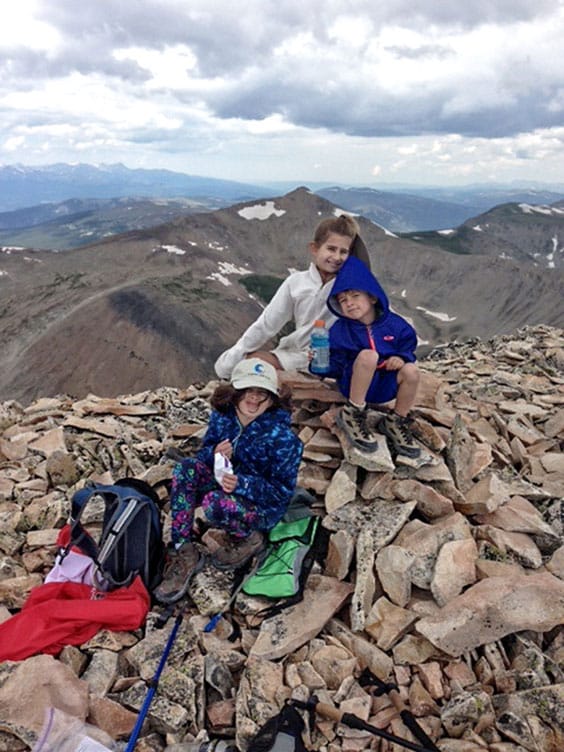 Left to right: Caroline (8), Melissa (11), and Christopher (5) Caid of Castle Pines Village after reaching the summit of Mt. Sherman at 14,036 feet on July 27. At five years old, Christopher is one of the youngest climbers to reach the summit completely unassisted. Melissa, who organized the climb said, "I felt like I was on top of the world!"
By Lisa Nicklanovich; photo courtesy of Brian Caid
At five years old, Christopher Caid of Castle Pines Village looks up to his two older sisters Melissa (11) and Caroline (8) and will do whatever they do, even if it means climbing up over 14,000 feet. The trio, along with their dad Brian Caid, climbed Mt. Sherman on July 27, making Christopher one of the youngest climbers to make it to the summit. Caid said, "Christopher completed the climb completely under his own power, not being carried, no hand holding even."
Melissa, who turned 11 years old the day after the climb, was the motivating force behind the adventure. Brian proudly noted that it was Melissa who planned the trip and made sure the group had all the right equipment, including food and water. Brian said, "From the start of the trail, Melissa and Christopher took off and bolted right up, followed by Caroline and me. We had a few false summit moments but they persevered."
When the group reached the summit after three hours and 15 minutes, they high-fived each other and did a victory dance. Caid said, "The kids admired the view and hugged each other. They were so excited and it was important they did it together and got up to the summit at the same time." Brian, who has climbed all over the world as well as climbing 26 Colorado 14ers, made sure everyone had some food and water before the journey down. He was concerned about the clouds coming in but insisted they take their time going down so no one would slip on the loose rocks. They experienced some rain close to the end of the trail but were prepared thanks to Melissa's planning.
Christopher just started kindergarten, Melissa, sixth grade, and Caroline third grade – all at American Academy with a great "what I did this summer" story. The siblings are already looking at climbing Mt. Elbert or Mt. Yale next and want to organize groups of kids in the neighborhood to climb 14ers to raise money for various charitable causes. Brian said, "I'm glad to see their interest and determination in climbing and it's something we can all do together. They went ahead and I had to do my best to keep up with them."
For more information, e-mail Brian Caid directly by e-mail.