CPN Recreation Center Still on Back Burner
April 1, 2009
/
/
Comments Off

on CPN Recreation Center Still on Back Burner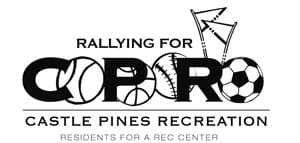 by Tracy Dudley
In the spring of 2007, a local grassroots group rallying for a recreation center in Castle Pines North (CPN) commissioned a survey that found 81 percent of CPN residents in favor of a recreation center for the community.
This was nearly two years ago, and Castle Pines Recreation (CPR) has since paused to allow the new city government to develop its infrastructure, which they hope will eventually include a Parks and Recreation Department.
Fortunately, prior to stepping back, CPR did take advantage of the process of city incorporation and the corollary election.
"We hosted several presentations to any candidate interested in finding out more about the recreation center issue," said Sally Wagner, a local resident who founded CPR.
Wagner reports that the response from political candidates was overwhelmingly positive, and all were in favor of a recreation center in CPN. However, most also recognized that this would be a significant undertaking requiring comprehensive cost versus benefit considerations. Regardless, Wagner's group hopes the city will tackle the recreation center issue in the near future and is poised to help with the effort.
"Having our own rec center is a wonderful idea. I believe this would be an added feature and a plus to offer potential Castle Pines North home buyers. I also believe that this would enhance our community feel by having more and more individuals from our various neighborhoods congregating and enjoying a mutual appreciation for physical activity and everything else that comes along with a community rec center," said Janie Barry, CPN city clerk.
Despite the challenge of a young city with its infrastructure under development and despite a few critics, Wagner believes that ultimately everyone will realize the tremendous positive impact a recreation center has in a small community.
"Many don't recognize the true value a recreation center brings to quality of life, increased home values, and providing a heart for the community until after the center is built," said Wagner.
According to the 2007 survey, more than two-thirds (68 percent) of CPN residents said they would frequent a community recreation center several times a week and would be willing to pay an average of $5 per visit or $65 to $75 per month to access the facility. The most desired features in a CPN recreation center included a fitness area with cardio, weights, and a track; a swimming pool; and a multi-purpose gym for court sports like basketball and volleyball.
To learn more, visit www.cpnrec.com.