CPN resident leads Colorado Daughters of the American Revolution
December 1, 2009
/
/
Comments Off

on CPN resident leads Colorado Daughters of the American Revolution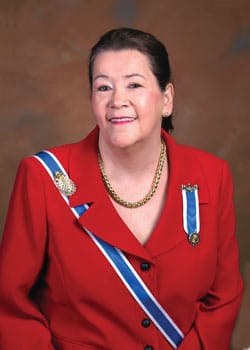 Article by Lisa Crockett with photo provided by C. Hubbs
Charlotte Hubbs heads Colorado's State Society of the Daughters of the American Revolution (DAR). It's a group with chapters nationwide comprised entirely of descendants of the revolutionary patriots who helped the United States achieve independence. In July, Hubbs, who lives in Castle Pines North, was installed as the Regent of the Colorado State Society. She now presides over roughly 3,000 members in 41 chapters of the DAR across the state.
In the past, Hubbs has served on both the local and the state level of the organization, and says she is looking forward to helping to continue the good works the society does as well as raising awareness about the group.
"I think that some people have a perception of us as a group of women who get together and drink tea, but it's really not like that," said Hubbs. "We do a lot of good works – that's why I am involved in this group."
The "good works" Hubbs speaks of include promoting education, historical preservation activities and support of veterans, to name a few.
"One of the activities we do that means so much to me are the schools we support," said Hubbs. "Around the turn of the century, the early members of the DAR recognized a need in schools in Appalachia, and that support of schools in need continues today."
Local and state chapters of the DAR support the national organization in the supply of funding, goods and services to schools in impoverished areas of the country, including schools for Native American children as well as residential school facilities and programs to benefit students with learning disabilities.
On a local level, the Mount Rosa chapter (located in Littleton) that Hubbs belongs to, sponsors a Christmas party at the Veterans Administration Hospital.
"We try to have lots of gifts – some of these veterans are homeless and this is the only Christmas they have," said Hubbs.
To that end, Hubbs and members of local chapters throughout the metro area solicit donations and make gifts including lap blankets and custom-made bags which can be used by wheelchair-bound patients on their wheelchairs to carry books and other items.
Hubbs is a fourth-generation member of the DAR, but her participation in the group is far from simply carrying on family traditions. She has a strong interest in American History, and especially in the women who were instrumental in the formation of this country.
"I give a talk called 'Great Women of the Revolution,'" said Hubbs. "Our speakers staff is available to community organizations and schools."
Membership in the DAR includes assistance in tracing genealogical lines of prospective members.
In addition to service and education, the DAR provides an opportunity for friendship and connection, something that Hubbs values.
"In this work, I really like all the people I've come to know," she said. "I think we're a really good group of ladies."
For more information on the Colorado DAR, visit www.coloradodar.org.