CPN residents win trip to Oktoberfest in Munich
December 1, 2009
/
/
Comments Off

on CPN residents win trip to Oktoberfest in Munich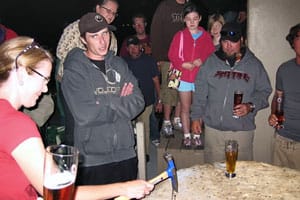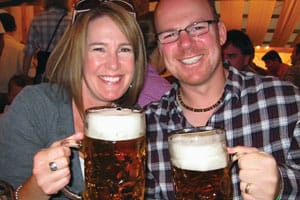 Article by Carin R. Kirkegaard with photos provided by Kathy Werbick

Late last summer, up on Copper Mountain, in a local pub, a test was held to see who of three winning contestants could drive a nail into a log first and then win in a rousing bout of Rochambeau.
Castle Pines North resident Kathy Werbick earned that claim to fame when she drove her nail the fastest (pictured above) and beat the other finalist in two rounds of rock-paper-scissors.
Her prize? An all expense paid trip to Oktoberfest in Munich, Germany with two VIP passes to the German beer festival from October 1 through October 3, the last weekend of the event. In addition, Werbick and her husband won a tour of the Paulaner Brewery and VIP access to the Paulaner tent at Oktoberfest (pictured below).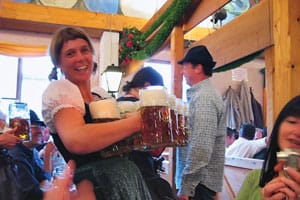 Tucker's Tavern, a family friendly pub located near the Center Village of Copper Mountain, was awarded the two passes for the international getaway for being a top seller of Paulaner, a German beer. As a matter of fact, Paulaner is the only beer sold at Tucker's.
The Werbicks, frequent diners at Tucker's, heard of the contest and decided to join in. For every $50 spent over the course of the week the contestant's name was thrown in the drawing.
In August, three names were drawn to compete in the nail driving competition. The two finalists then decided the winner of the passes with Rochambeau.
"It was so much fun," said Werbick. "I was the only girl in the contest and I had everyone in the bar, including my two kids cheering me on."
Pictured bottom right are Kathy and Jeff Werbick toasting the trip of a lifetime!